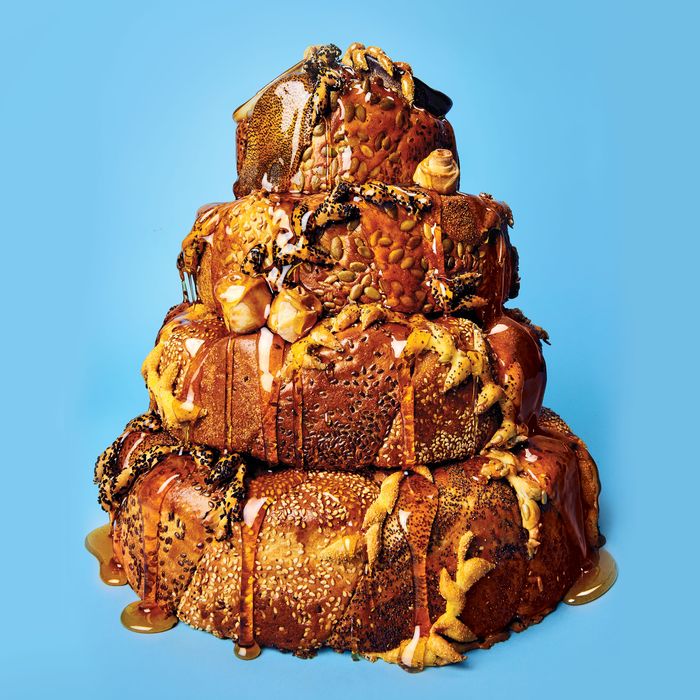 Challah from Breads Bakery.
Photo: Bobby Doherty/New York Magazine
Fondantlike towers of Brie may be all over Instagram, but plenty of other foods — including Korean prime beef — can make a dramatic non-dessert display.
Wedding Challah (above)
Four tiers of braided challah bread with sesame seeds and inlaid pots of honey. "The rolls pull right out and can be dipped in the honey pots up top — a new way to break bread for the first time as a married couple."
Breads Bakery, from $500 at 18 E. 16th St., nr. Union Sq. W.; 212-633-2253.
Korean Steak
Caramelized cubes of prime beef with sides of savory umami ssämjang dipping sauces. "This is the exact same recipe as our signature Butcher's Feast entrée, but made to stand out on the buffet table."
Cote, price upon request at 16 W. 22nd St., nr. Fifth Ave.; 212-401-7986.
Charcuterie
Paper-thin flowers of prosciutto and Tête de Moine mountain-style cheese from Switzerland with a layer of Ewephoria sheep's-milk Gouda on a wheel of Parmigiano-Reggiano. "The antipasto course in cake form."
Mayne Creations, from $2,000 at 201-473-3388.
Tea Sandwiches
Tea sandwiches filled with curried chicken and coconut; cucumber, radish, and watercress; rosemary almond butter, candied bacon, and pomegranate gelée; and smoked salmon, lemon, and capers. "Formed in a concentric design so these can easily be pulled while keeping the cake intact."
Abigail Kirsch Catering, price upon request at 71 W. 23rd St., nr. Sixth Ave., Ste. 1611; 212-696-4076.
Truffled Quiche
Four layers of customizable truffled quiche in flaky butter crust. "Each slice can be topped with a dollop of caviar to symbolize the blessing of prosperity for the couple."
Breads Bakery, from $500 at 18 E. 16th St., nr. Union Sq. W.; 212-633-2253.
… And a Weirder Cheese Cake
A square wheel of Goat Lady Dairy Providence cheese stacked with White Lake Cheese's Sheep Rustler, from the U.K., and Portuguese Zimbro cheese.
"The Zimbro is gooey and puddinglike, so guests can scoop it right onto slices of crusty baguette."
Murray's Cheese, from $450 at 254 Bleecker St., nr. Cornelia St.; 212-243-3289, ext. 640. 
*This article appears in the winter 2019 issue of New York Weddings.
More From New York Weddings
See All