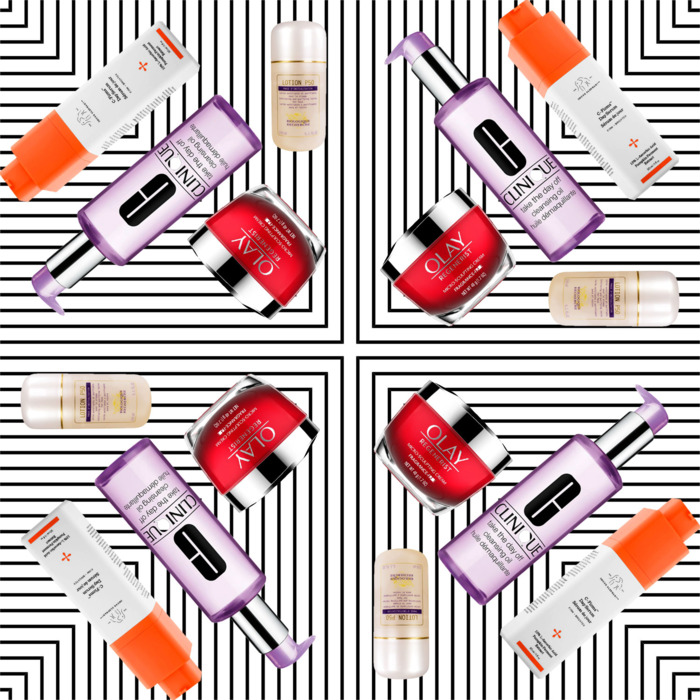 Photo: Courtesy of the Retailers
Here's a math question. If your shampoo, conditioner, body wash, deodorant, face wash, toner, moisturizer, sunscreen, foundation, blush, bronzer, concealer, and perfume all have a smell, does that mean you:
A) Smell 13 times as good?
B) Have skin 13 times as irritated?
Good-smelling beauty products are great, and I'm very grateful to the hard-working perfumers who make them. But sometimes, I get tired of smells. It's not like I want to live in a hermetically-sealed world, just one where my nose has to work a little less hard.
According to some experts, smells don't just irritate your nose — they can also cause your skin to look less than its best. Skin-care expert Paula Begoun, firmly believes that most fragrance ingredients cause a "volatile reaction" to the skin. Drunk Elephant's founder Tiffany Masterson says that a lot of the essential oils or "natural" alternatives used to scent products cause "allergic sensitivities." And Dr. Joshua Zeichner, director of cosmetic and clinical research, Department of Dermatology at Mount Sinai Hospital, agrees: "The issue with many fragrances is that they can cause allergies or irritation to the skin."
If you want to live a life that's a little less smelly, as a consumer, there's the added confusion of distinguishing between fragrance-free and unscented products. They are not synonyms. Dr. Zeichner explains that fragrance-free products don't contain any added fragrance but still might have a perceptible smell from their ingredients. Unscented products smell like nothing, but there might contain a fragrance neutralizer to make that happen.
The bottom line is that most people's skin can tolerate using a scented product. "But if you have dry or sensitive skin, or have eczema or rosacea, then it's best to avoid," Dr Zeichner cautions. With winter coming up, there's a strong likelihood that your skin could exhibit any of these four characteristics, making fragrance-free products a good pick. Here are some of the best ones.
10 Great Products With No Smell at All
L'Oreal Paris Revitalift Derm Intensives Hyaluronic Acid Facial Serum
Taking a Deciem-like approach, L'Oréal Paris's new product is simple and clinically derived. It contains pure hyaluronic acid, the one acid that moisturizes the skin to make it look plump and bouncy. Tip: Use it on damp skin for best results because hyaluronic acid helps retain over 1,000 times its weight in water (it's a moisture power lifter).
OLAY Regenerist Micro-Sculpting Cream Fragrance-Free
This moisturizer is frequently praised for being the best drugstore option (it has over 2,000 4.5 star reviews on Amazon). It also comes in scented and fragrance-free option.
Dove DermaSeries Eczema Body Lotion
For eczema sufferers, regular lotion can feel itchy or cloying. This line from Dove, which also includes body wash, is just for them.
And Three With No Fragrance Added
DRUNK ELEPHANTC-Firma™ Day Serum
This Vitamin C serum has a slight burnt penny smell. But that smell comes from the high abscorbic acid (a potent form of Vitaminc C) in the formula.
RMS Beauty The Ultimate Makeup Remover Wipes
These makeup wipes won't leave your skin feeling raw. They smell like coconut oil and nothing else.
BIOLOGIQUE RECHERCHELOTION P50
This legendary, French skin-brightening toner smells so bad that there's no way it was designed like that on purpose. It's been described as smelling like straight-up pickled garbage. But that smell is all-natural thanks to the product's blend of onion extract, two different types of acid (lactic and salicylic), burdock extract, and plankton.
If you buy something through our links, New York may earn an affiliate commission.