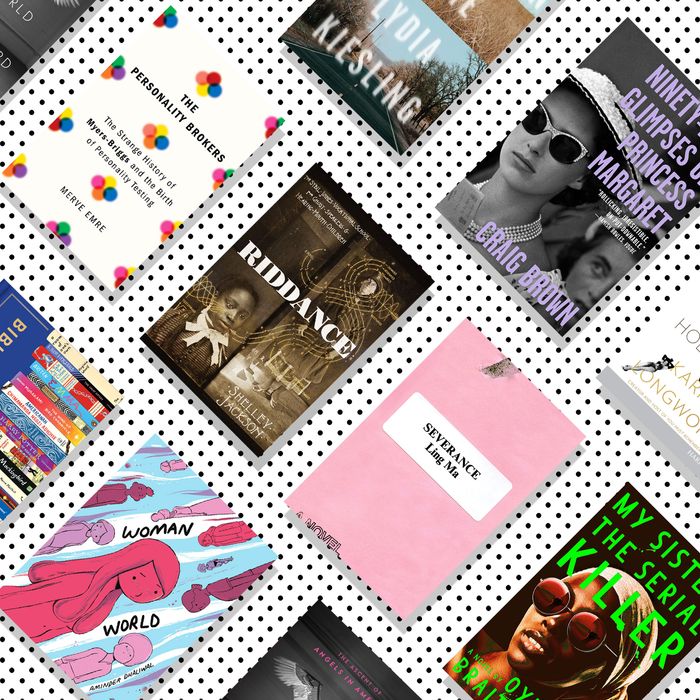 Photo: Courtesy of the Retailers
The most giftable books are the ones that your recipients will want to talk about long after they've finished reading. Below you'll find some of the best books of 2018 from a wide variety of genres, arranged with consideration for friends with specific needs. Read on for the best book to buy your friend who recently had a baby, your friend who loves old movies, your friend who's a workaholic, and more. (Need more help picking out gifts? Check out our gift guides for moms, dads, co-workers, and literally any man.)
For Your Friend Who Never Goes Without Black Lipstick
Unsettling in the best way, Riddance is a lush, gothic novel set at a vocational school for children who receive elocution lessons — not to get rid of their stutters, but to use the spaces between their words to channel the dead. Sit in as children study the science of necrophysics, using language (and a lack thereof) to narrow the distance between the world of the living and the world of the dead. Spooky old sepia-toned photos and diagrams accompany an academic's notes in this compelling ghost story.
For Your Friend Who Live-Streamed Princess Eugenie's Wedding
Linear narratives are for commoners. In this biography of the queen's always glamorous and notoriously bitchy sister, Craig Brown devotes 99 vastly different chapters to viewing and trying to comprehend Princess Margaret's life from 99 different angles. She was a heartbreaker who became more and more imperious with age, a gossip and tabloid staple whose scandals eventually gave way to disappointments but whose delicious brand of snobbery would become the stuff of legend. Brown captures her in a way that no straightforward storytelling ever could.
For Your Friend Who Is Done With Men
Move over, Patrick Bateman. There's a new sociopath on the scene, and although she prefers Whitney Houston to Huey Lewis, she hungers for blood all the same. The debut novel by Nigerian author Oyinkan Brathwaite portrays the character of Ayoola as a kind of siren, so beautiful and seductive that men are drawn to her like flies to shit — so why shouldn't she swat them down? Her secret weapon (aside from a 9-inch knife she inherited from her abusive dead father) is her older sister Korede, always on hand to help clean up the mess after the fact. Female rage has been so prevalent in literature from the past year, and this novel amps it up more than a few notches. It's thrilling to turn pages just to see what Ayoola will do next.
No, for Your Friend Who Is Seriously Done With Men
This hilarious graphic novel poses a question: what would the world be like if men no longer existed? Would you be surprised if the answer is … perhaps not so bad? "How many of you skewed bi anyway?" asks the mayor of Women's World, to a flurry of upraised hands. Even as the women grapple with how to propagate the species as sperm banks become dry, they have plenty of time to discuss their feelings and to marvel over artifacts from the days of men, like a very special DVD of Paul Blart Mall Cop.
For Your Friend Who Identifies as a Bookstagrammer
The ultimate coffee-table book about books, Bibliophile comes complete with beautiful color illustrations and specialized recommended reading lists that span a wide array of genres and topics. Perfect for the book fetishist in your life — you know, the one who loves books as physical objects as much as they do reading them — Bibliophile contains sections on beloved bookstores, striking libraries, and gorgeous writers' spaces. It's a testament to the magic of getting lost in books.
For Your Friend Who Uses All the GIFs From Turner Classic Movies
The Golden Age of Hollywood was supposed to be a time of glamour and decadence, when female movie stars were sexy and powerful, and men fell at their feet. Karina Longworth, the host of the podcast You Must Remember This, shatters our illusions in her excellent history of the era, describing an industry that catered to male desires while using women as glorified props. Through the lens of the women in the life of rich and eccentric scumbag Howard Hughes — a list that includes bombshells, nobodies, and even Katherine Hepburn — Longworth blasts through the seductive narratives propagated by men in the film business to uncover the dark stories underneath.
For Your Friend Who Has Taken Every Single Online Personality Test
How comforting it is to place ourselves into neatly defined categories, to use labels to classify others. Until, of course, it's not. The idea that personality is predetermined and unchangeable makes for just about every racist, sexist, classist stereotype you could imagine. In this biography of the two brilliant women–a mother and daughter team–who invented the Myers-Brigg Type Indicator, Merve Emre reveals how personality assessment became culturally dominant even though it isn't valid scientifically. Along with original reporting about the social impact of personality testing and the way its American businesses and institutions, Emre captures why we're drawn to such categorizations and how much we want to believe.
For Your Friend Who Has Mastered the Binge-Watch
To sit through both parts of the groundbreaking Broadway play Angels in America takes nearly eight hours. To read this epic oral history of the play's journey from its first public presentation in 1988 to its 2018 revival takes about two days, fewer if you're a binge-reading pro. Angels in America did so much to change the way gay people are represented in popular culture, covering even the most devastating moments of the AIDS crisis with transcendent beauty. Hundreds of interviewees — from playwright Tony Kushner to Meryl Streep, who starred in the HBO adaptation — lend their insight into both the themes of the play as well as the creative acts required to bring it so stunningly to life.
For Your Friend Who Is Way Too Invested in Her Day Job
Ling Ma's extraordinary debut encompasses many genres and might just be the first and only coming-of-age, immigrant experience, anti-capitalist zombie novel you'll ever need. Candace Chen is as millennial pink as the book's cover. She's young and eager and has moved to New York City with aspirations of being a photographer, but she's stuck in a corporate Bible manufacturing job to pay the bills. When the apocalypse comes in the form of an airborne epidemic, she … barely even notices, going about her routines as if the entire city weren't at a standstill. By the time she finds a group of survivors to travel with, led by a dude who used to work in IT, it's clear that Candace's struggles have only begun.
For Your Friend Who's a New Mom
The young mother who narrates Lydia Kiesling's debut novel in a sweeping stream of consciousness is not the kind of woman who's obsessed with having it all–she's more preoccupied with having something, anything, as she waits for her husband to be permitted to re-enter the country (he's Turkish and stuck in his home country due to immigration purgatory). In his absence, she abandons her job and San Francisco life, fleeing to the desert, where she must grapple with the wonderful, terrible daily drudgeries of having a baby. It sounds bleak, but Kiesling's sharp eye for detail and never-condescending voice will make new mothers feel understood.
If you buy something through our links, New York may earn an affiliate commission.