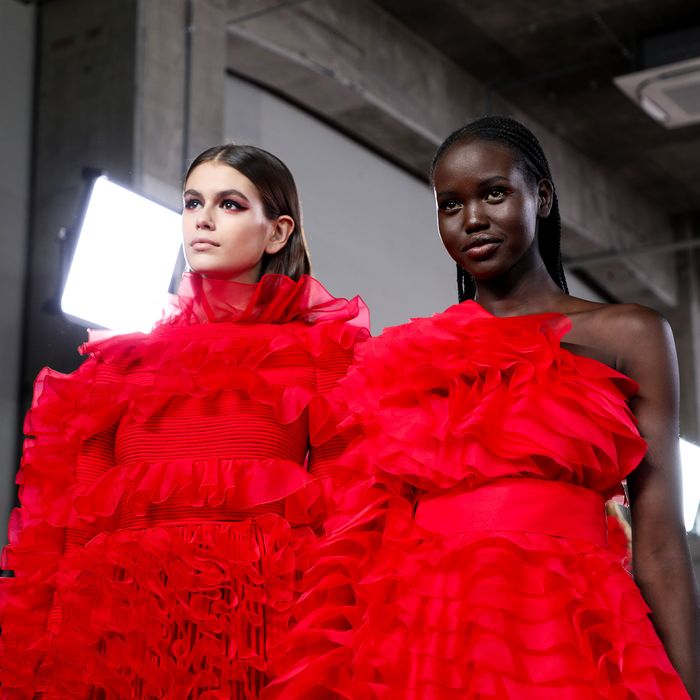 Photo: Satomi Kokubun/REX/Shutterstock
It's no secret that we think the easiest way to look as stylish as possible is to wear an all-red outfit. And designers agree, and have for many seasons. But Valentino reignited our love for the color at its pre-fall show in Tokyo. The show had 90 looks, 28 were all red (with five that were red-and-black printed). And God are they good. Many of them were gowns — not super surprising for Valentino — but some were layered red outfits that look like something you could conceivably replicate on a non-Valentino budget.
Here, we have the opening look. A casual all-red look that also looks roomy and comfortable (the dress is basically a caftan and is styled with combat boots).
And next, a ladylike all-red look with clownlike red combat boots. Cocktail head-to-toe red.
And let's not forget the men's head-to-toe red (an exciting new development!) The feathers on the hat is just the cherry on top of a cherry sundae, but a regular red bucket hat would suffice.
Can't wait to see what Frances McDormand does with these dresses.
The collection was inspired by Japan, particularly the concept of wabi-sabi, or imperfect beauty. "Western culture is about symmetry, perfection, static beauty, while wabi-sabi is more close to the idea of harmony, of inner grace. Time goes by and it adds, it doesn't take away," designer Pierpaolo Piccioli told Vogue. Embrace the idea of imperfect beauty by experimenting with Valentino-inspired red eye shadow.