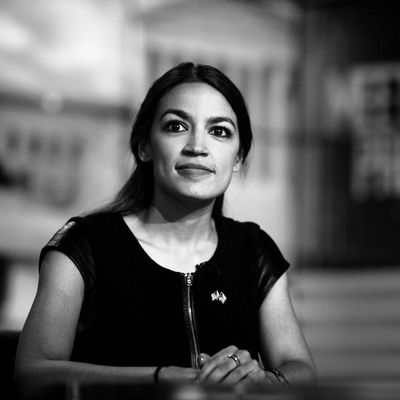 Alexandria Ocasio-Cortez.
Photo: NBC NewsWire/NBCU Photo Bank via Getty Images
It's really unclear what Eddie Scarry was trying to accomplish when he posted a photo of Alexandria Ocasio-Cortez and implied that her jacket was proof she was lying about her working class background. If he wanted positive attention or validation, he definitely did not achieve his goal.
If he wanted to maybe become the most ratioed person on Twitter, and get made fun of by just about everyone, good news: it worked. Within an hour of posting a photo that a "Hill staffer" sent him, thousands of people responded to Scarry's tweet.
MSNBC reporter Jacob Soboroff told Scarry to "get a life dude." Even Mike Cernovich told him to "delete this." Plenty of others echoed the sentiment, and after a few hours, Scarry did. But not before it made the rounds on Twitter.
"Ocasio-Cortez's superpower is making conservatives admit that they think only rich people should have clothes and housing," wrote reporter Ken Klippenstein.
Some pointed to Scarry's disturbing pattern of behavior: "This judgmental creep getting ratio'd into oblivion seems appropriate, given his condescension and aggressive cluelessness," wrote Tasha Robinson. "But a reminder — he's a serial creepshotter with a history of grossly policing women whose bodies don't meet with his approval."
Ocasio-Cortez also responded, writing: "If I walked into Congress wearing a sack, they would laugh & take a picture of my backside. If I walk in with my best sale-rack clothes, they laugh & take a picture of my backside. Dark hates light — that's why you tune it out. Shine bright & keep it pushing."
Others used Scarry's bad tweet as an opportunity to launch a new meme format, immortalizing his words in a funnier, less cringe inducing light. Gritty even makes an appearance! Here are some of the funniest.