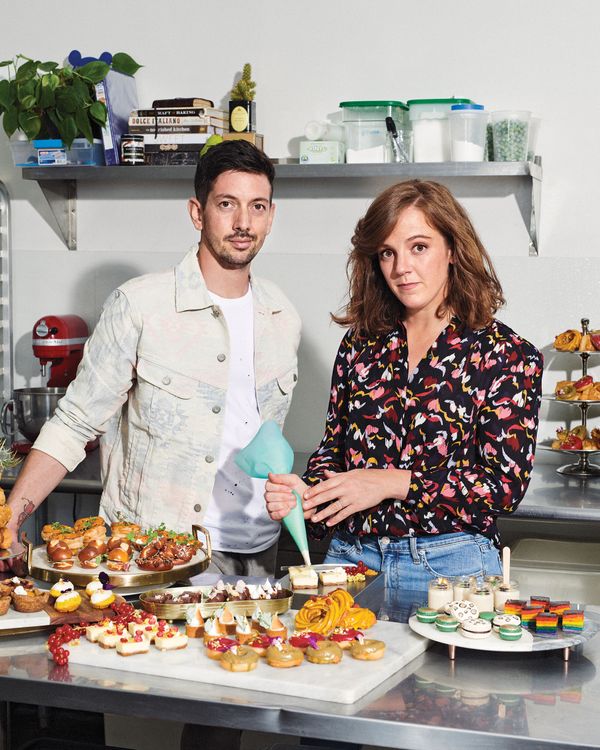 Eric See and Erin Emmett.
Photo: Kyle Dorosz
Eric See and Erin Emmett, co-owners of Leopard & Pear
What can brides and grooms expect from your new dessert company launching this fall?
Eric See: This is for couples who want more than just a cake at their wedding — they want a dessert experience. Erin and I have done a lot of receptions (she owned Sweet Pistachio, and I run the Awkward Scone), and we've seen a demand for these kind of live-action dessert stations: doughnut machines, liquid-nitrogen-ice-cream bars. The idea in teaming up is to offer big-scale productions like that in addition to the little touches we've become known for in our respective work — like sweet and savory hors d'oeuvre and party favors.
What kinds of favors and hors d'oeuvre?
Erin Emmett: A great wedding favor I've created are these little boxes of scones and biscuits with homemade jam. Your guests can eat them late at night or for breakfast the next morning.
ES: And hors d'oeuvre are a natural component for us as bakers because they're so often pastry-based — stuff in a tart shell or on flatbread. We do these wonderful hempseed-and-rye tartlets with harissa-roasted butternut squash and whipped ricotta. We also love doing a flatbread bar as a buffet station, with toppings using seasonal fruits and vegetables from local farms. It's a beautiful canvas for decorating with fresh flowers.
So a couple can hire you to set up an entire hors d'oeuvre or dessert table, flowers and décor included?
EE: Yes, with staff included, too. We can physically be there scooping out mini-cones of ice cream for your guests. The service fee starts at $800 for the setup and staff, in addition to the cost of the actual hors d'oeuvre or dessert spread (from $15 per person). Of course, if you'd also like us to make your wedding cake, we can do that, too (from $9 per person) — a popular one for me lately has been a black cake with tropical flowers and palm leaves.
Aside from flowers, what are some other simple ways brides and grooms can zhuzh up their dessert table?
ES: Play with scale and texture; you never want your display to look flat and linear. Place your pastries on a variety of shaped platters, old and new, large and small. Not just cake stands but wooden bowls, vintage glassware, even empty cigar boxes: A fun tip is that many cigar shops in Manhattan give away, or sell for very cheap, all those beautiful empty cigar boxes they would otherwise throw out. And sexy lighting is key! Use unscented tea candles or soft string lights to help highlight all the gorgeous desserts.
1022 Broadway, Bushwick; 917-870-6220; by appointment only at leopardandpear.com.
"Don't underestimate the appeal of a tower of cream puffs — they're an antiquated pastry, but they're having a resurgence and they catch people's eye."
*This article appears in the winter 2019 issue of New York Weddings.
More From New York Weddings
See All