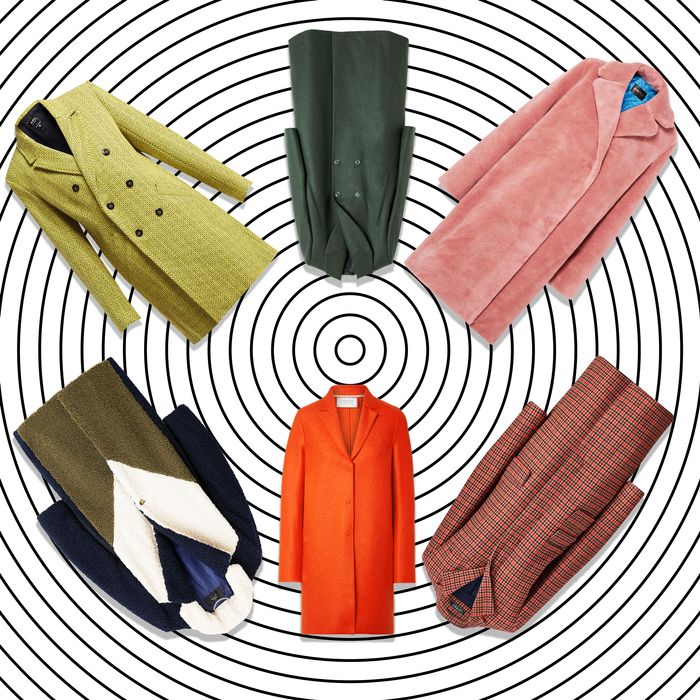 Photo: Courtesy of the Retailers
Nothing feels quite as swish as putting on a killer coat over a simple outfit. The best coats this year generally fall into one of four categories: modern classics, puffers, faux furs, and fun coats. Let's break it down. The modern classics come in recognizable shapes — the overcoat, the trench — but are generally less structured and more easygoing than the dressy topcoats of the past. Puffers are still going strong; nary a hypebeast is found without an oversize coat, but there are more practical options if you're particularly cold. Faux furs are the darling of the fashion world, and maybe the coziest statement pieces on the market — aside from what we're calling "fun coats," which is really a bucket category for anything colorful, printed, or otherwise special that's not fuzzy. Shop all four categories below.
The Modern Classics
These are the coats Meghan Markle would wear — tailored and polished, but not too stuffy.
A black cashmere coat is as classic as it gets. No matter what else is going on, this will be by your side.
Available in sizes XXS–XXL.
A slightly oversize shape brings this jacket into Scandi-chic territory.
Available in sizes 2–16, 14W–32W.
A bright red coat is surprisingly versatile, and is a way to add flair without looking too trendy.
Available in sizes 0–12.
Channel your inner Sherlock Holmes.
Available in sizes 0–10.
A loose, unstructured coat in navy is both professional and cozy.
Available in sizes 0–10.
Similar to the previous cashmere black coat, but the exaggerated lapels make it feel fancier.
Available in sizes 2–12.
A super-feminine coat that allows you to cosplay as Midge Maisel.
Available in sizes XS–L.
Max Mara is the gold standard of classic coats (or the camel standard, as the case may be). Yes, it's super pricey — but it will last for years.
Available in sizes 2–8.
The Puffer
The marshmallow coat can go one of two ways. Either it's a hardy piece of cold-weather gear intended to keep you warm on your annual jaunt to Antartica, or it's fashion piece intended to keep you warm on the J train platform. Both options are winners.
You can't go wrong with a sleek all-black parka.
Available in sizes XS–XL.
The exaggerated shape (even the individual puffs are oversize) and the interesting-but-muted color make this the perfect fashion puffer. And of course, the fanny pack is a great accessory choice.
Available in sizes 0–14.
This falls into the category of "functional puffers," but the color makes it fresh.
Available in sizes XS–XL.
This looks like the kind of puffer you'd choose for a long, winter-y trek. Perfect if you bought into the cowboy boot trend.
Available in sizes XXS–XXL.
If you're looking for a coat that will encapsulate 2018, this may be it. Light pink, metallic, and so, so puffy.
Available in sizes S–L.
If you're a skater, a skiier, or some other kind of sporty cool person, this is the coat for you.
Available in sizes XS–L.
The more military shape makes this a classic.
Available in sizes 0X–3X.
The Faux Furs
Fur is on its way out for ethical reasons, but the fashion crowd just can't resist the way it looks and feels. Hence the explosion of colorful, fun faux-fur coats that have dominated fall/winter runways for several years.
Many coats in this category will make you look/feel like a teddy bear. This one is the "ultra-plush" version.
Available in sizes 0–10.
There's no place I'd rather be on a cold day than inside this cotton-candy looking coat. (Other than indoors, of course.)
Available in sizes XS–XL.
Another teddy coat! This one isn't as furry as it is fuzzy — like a well-loved stuffed animal.
Available in sizes 14–28.
Play out your Parisian fantasies with this coat, a beret, and red lipstick.
Available in sizes XXS–L.
A realistic looking faux fur. Nobody will know the difference.
Available in sizes 14–28.
The color-blocking on top of the furry texture feels so modern. The clean lines in the pattern contrast beautifully with the softness of the coat. *Chef's kiss.*
Available in sizes XXS-XXL.
It takes a bold person to wear a Big Bird–looking coat, but if you can pull it off, you'll look amazing.
Available in sizes XS–L.
The Just-for-Fun Coats
Finally, we have arrived at the fun coats — the ones that make an outfit a statement even when you're just wearing leggings and a T-shirt underneath. If you love color, prints, or capes, we've got you covered.
Just look at that ruffled seam!
Available in sizes XL–XXXL.
Anglomania is hot right now. Embrace it.
Available in sizes XXS–XL.
Ganni is quickly becoming the it-girl brand to know. But this ice-blue number is elegant for anybody.
Why have either houndstooth or tartan when you could have both?
Available in sizes 14–28.
It's a cape! Perfect for swooping around dramatically.
Available in sizes 0–10.
This shade of orange is guaranteed to turn heads.
Available in sizes 0–12.
Parisian tailoring in a muted chartreuse.
Available in sizes XS–L.
Channel Marc Jacobs's '80s fantasy in a super wearable way.
Available in sizes XS–L.
If you buy something through our links, New York may earn an affiliate commission.