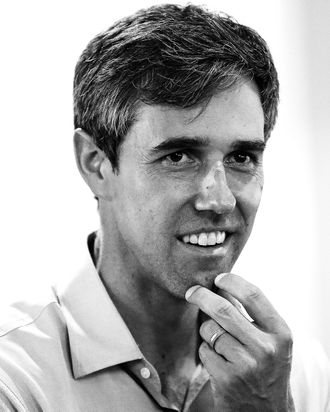 Beto O'Rourke.
Photo: Chris Covatta/Getty Images
After conceding in his close race against Republican senator Ted Cruz, Beto O'Rourke appears to be making the full pivot to Chill Dad — a side of himself he started to reveal when he goofily skateboarded across the stage at a campaign event and played air drums while waiting in line for his Whataburger. In his latest flex, O'Rourke jumped in the car with his family and one piece of precious cargo: a massive bowl of guacamole.
On Wednesday evening, O'Rourke uploaded to his Instagram Story a number of videos of him enjoying the party-size snack while driving. The series starts out with a close-up of the guac — "Beto's guac" — and it needs to be said that the plating was impeccable. Clearly thinking ahead, O'Rourke or a family member had strewn Fritos across the guac so that O'Rourke could efficiently down the bowl while driving. (While Fritos is an odd choice of chip for guac, as they lack the surface area to hold the dip, it is a forgivable one.)
At the start of the video, one can hear O'Rourke mutter in a self-deprecating tone, "Mm, it's not bad," as he forcefully bites down on a chip. The woman in the passenger seat, who is likely his wife, chimes in, "It's so good."
We'll let you enjoy the series yourself.
Here's the scoop, which is not shown in this screenshot, but probably has the perfect chip-to-guac ratio.
The salivary glands are activated…
Perfect delivery!
Mr. O'Rourke, sir, please give me your guac recipe.