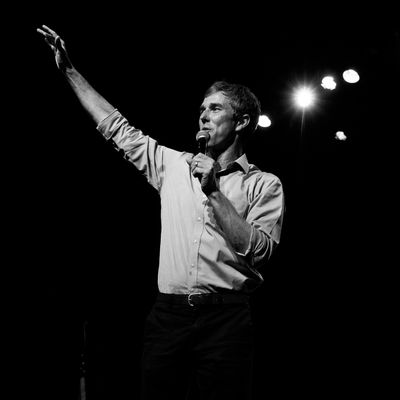 Beto O'Rourke.
Photo: PAUL RATJE/AFP/Getty Images
Beto O'Rourke, the sweaty, skateboarding, bunny-petting, Beyoncé-endorsed Democratic Senate candidate challenging dreadful Ted Cruz, lost his 2018 midterm race. He came within three points of the Republican incumbent, earning 3.5 million votes in one of the biggest challenges to Texas Republicans in two decades. Beto's campaign inspired millions of people across the state of Texas — including a 77-year-old woman who said that Beto gave her pride and "represents everything that Donald Trump isn't."
For so many who placed their hopes in Beto, a loss in 2018 isn't the end: It's the beginning. Across social media, people have already begun posting their Beto 2020 dreams. Olivia Wilde, actress and daughter of defeated Democratic candidate Leslie Cockburn, wrote "Beto 2020. Let's do this."
Political analysts began calculating his likely success based off of the results he turned out in Texas. "I do believe, fervently, Beto should run for President of the United States in 2020," Seth Abramson, who is a contributor at CNN and the BBC, wrote.
Eager supporters already began plotting their canvassing strategies, and others were envisioning themselves marking his name on the presidential ballot.
Even though we're just hours from the results 2018 midterm elections, Beto isn't the only name being thrown around for 2020 presidential candidate. He's one of many Democrats who are being considered in the search for a worthy challenger against Donald Trump, who endorsed Senator Ted Cruz, a man who joked about being the zodiac killer in order to seem more likeable.