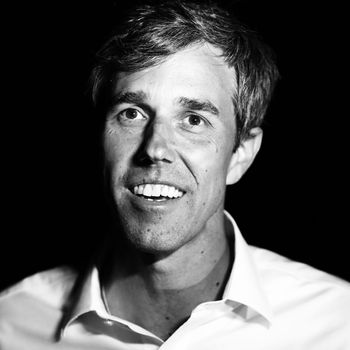 Beto O'Rourke.
Photo: Chip Somodevilla/Getty Images
If you've been on or around Twitter in the past 24 hours, you've likely come across some cryptic chatter about a so-called "Beto Sex Tweet." The tweet in question is exactly as described: a horny missive for the ages, joking about the hypothetical sexual prowess of Beto O'Rourke, the beloved Texas representative who tried to take down Ted Cruz in the midterm elections — in contrast to the imagined copulative failings of two other potential 2020 candidates.
The tweet posits that Richard Ojeda, a West Virginia Democrat who recently announced he is running for president in 2020, and Michael Avenatti, the attorney who represents Stormy Daniels and who may run for president, pump away tediously during intercourse, while O'Rourke is good enough at sex to … make one's calves cramp.
Perhaps quite predictably, it sent Twitter ablaze, with those who had seen the post entering a state of frenzy, and those who had yet to see it begging for a link.
So intense was the fervor that the woman who sent the tweet — a political commentator named Leah McElrath — briefly made her account private. She unlocked her account on Tuesday morning, though, to reflect on our shared Beto journey and decry critical reactions to her post.
"It's been interesting to watch the reception of this tweet play out today," she wrote. "To be clear, it was written to highlight the toxic masculinity of certain candidates and their respective campaign philosophies … Most people understood the tweet (see the replies). However, some people chose to distort it, use it to characterize me as 'horny' and mock me as though that would be a bad thing if true."
Consider this saga firmly lodged in the increasingly short memory of the collective internet. And please remember to drink plenty of water and stretch your calves. Beto would certainly want you to.