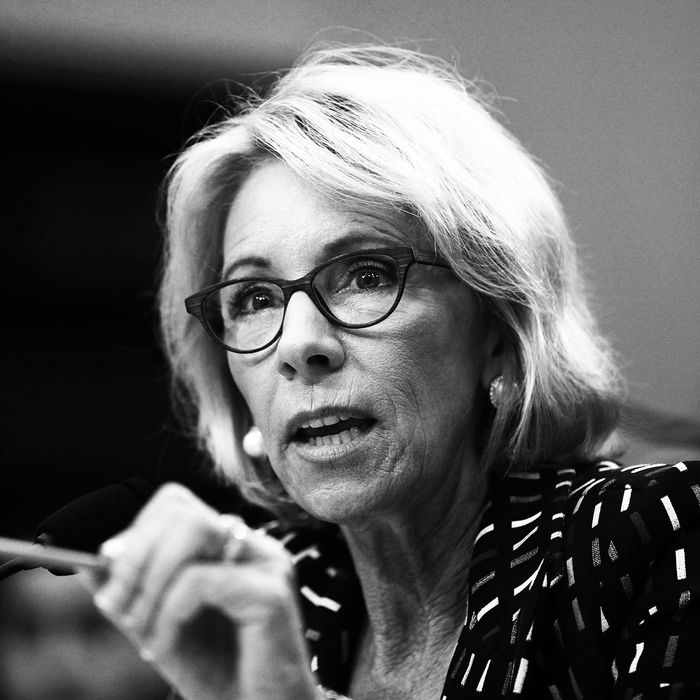 Betsy DeVos.
Photo: Alex Wong/Getty Images
On Friday, Education Secretary Betsy DeVos officially proposed her long-held plan to protect students accused of sexual assault on college campuses. The new regulations would mark a major shift in how colleges and universities approach accusations of sexual misconduct, not only adding protections for accused students, but also significantly narrowing the definition of sexual harassment.
DeVos claims the proposal would strike more of a fair "balance" between accused and accuser; she's previously said she believes the Title IX laws on college campuses don't allow students accused of assault to fairly defend themselves. Critics say it's a blatant attempt to erode the rights of assault survivors.
"Secretary DeVos' long-awaited rewrite of Title IX enforcement regulation is worse than we thought. It will return schools to a time where rape, assault, and harassment were swept under the rug," Jess Davidson, the interim executive director of End Rape on Campus, said in a statement.
Here are the most significant ways DeVos's new rules would impact survivors of sexual assault and harassment on campus.
Colleges would only be involved in cases of sexual assault if they occurred on campus or at a school-owned facility.
Under DeVos's new plan, colleges would only be required to investigate allegations that occur on campus, somewhere owned by the school, or at a school-funded event. This could mean that assaults at off-campus house parties, for example, would not be properly investigated by the administration. The cases would also need to be reported to certain campus authorities with the authority to take action.
Once a school knows about an allegation, it is required to take it seriously, the Education Department says. But the regulations themselves say that a case will merit punishment by the Department only if it is "clearly unreasonable in light of the known circumstances." This is all language that suggests the Department is working hard to brush off many cases of sexual misconduct.
Accused students would be allowed to cross-examine their accusers.
The rules — which are decidedly more formal than the Obama-era guidelines that DeVos rescinded a year ago — add protections for accused students. They place an emphasis on "presumption of innocence" throughout the investigative process, and require written notice of the allegations. Under the new regulations, accused students are entitled lawyers, the right to review all evidence brought against them, and the opportunity to cross-examine their accusers — albeit only indirectly, through a lawyer or representative.
The process of cross-examination is direct and aggressive, and would put immense pressure on the accuser. The regulation does provide "rape shield protections" for accusers, meaning they cannot be questioned extensively on things like their sexual history. But the process of directly interrogating someone who has experienced sexual assault is often daunting enough to re-traumatize them — or deter them from reporting it altogether. As we saw with Christine Blasey Ford's testimony, being questioned about one's sexual assault often becomes an act of reliving it.
The new rules would narrow the definition of sexual harassment.
DeVos's proposal radically narrows the definition of what constitutes sexual harassment. While "sexual harassment" was formerly defined as "unwelcome conduct of a sexual nature," the new regulations call it "unwelcome conduct on the basis of sex that is so severe, pervasive and objectively offensive that it effectively denies a person equal access to the school's education program or activity." This would make it much easier to deny a student's claim of sexual harassment, and would also discourage someone from reporting. The language implies that the action would have to be an extreme case in order to be taken seriously — casting doubt over the immense psychological impact of a whole spectrum of sexual abuses, especially for young people.
It would be much harder, legally, to punish the accused.
Devos's proposal would raise the legal standard as to what kind of behavior necessitates consequences. Under Obama's previous Title IX guidance, schools would charge a student as guilty based on a "preponderance of the evidence" standard — meaning the allegation is "more likely than not" true. DeVos wants schools to have a higher standard when considering whether to punish the accused; her proposal would make officials abide by a "clear and convincing" standard, meaning the sexual-harassment claim would have to be highly probable for anything to be done about it. (Meanwhile, schools can still use the preponderance standard for a host of other disciplinary infractions — but never in the case of Title IX violations.) This has never before been the standard for sexual-assault cases.
It is already notoriously difficult to get schools to take student's allegations of sexual-assault seriously and issue proper disciplinary action.
As Naomi Shatz, a Boston-based students' rights lawyer, pointed out in an extensive Twitter thread, the new regulations would require a full investigation and investigative report produced for each case, along with a live hearing that includes all witnesses. This, Shatz wrote, "is the most time-consuming and unwieldy process available."
At a roundtable discussion Thursday, Representative Maxine Waters of California predicted Devos's new proposal "will prioritize the interests of the institutions and the accused, while undermining protections for survivors."
The public has 60 days to comment on the regulations in a public forum online. The regulations are not yet up for comment.