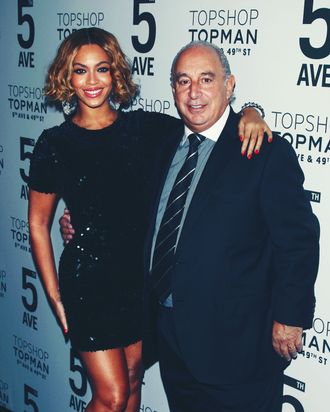 Beyoncé Knowles and Sir Philip Green.
Photo: Jim Spellman/WireImage
On Thursday morning, it was reported that Beyoncé Knowles has officially cut ties with Sir Philip Green, the chairman of the conglomerate that owns Topshop. This follows recent allegations against Green for sexual harassment, bullying, and racist abuse.
Green previously held a 50 percent share in Ivy Park, the activewear brand Beyoncé launched in 2016 at Topshop with the help of Green's Arcadia Group. But in a move to distance herself from the British tycoon, Beyoncé's own company, Parkwood, has since bought back Green's shares.
Ivy Park said in a statement to The Guardian: "After discussions of almost a year, Parkwood has acquired 100% of the Ivy Park brand. Topshop/Arcadia will fulfil the existing orders."
It's notable that these negotiations date back almost a year, since Green was outed as the man behind one of Britain's most high-profile #MeToo scandals only a month ago. Initially, the Court of Appeals in the U.K. issued a gag order preventing the Telegraph from naming Green in their reporting. But Lord Peter Hain, a member of Parliament, decided to name Green in the House of Lords, saying he felt the story was one of "public interest" and that the allegations against Green were of a "serious and repeated" nature.
Green has strongly denied the allegations against him, saying that his remarks had been "banter" and that "there was never any intent to be offensive."
But clearly, Beyoncé is not buying it. She's been busy endorsing men with cleaner records, like Beto O'Rourke.