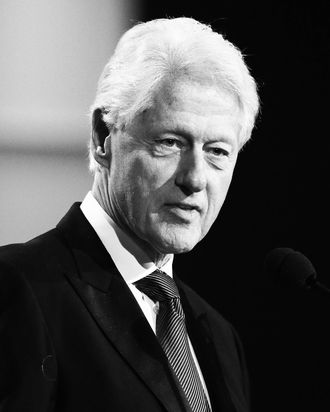 Bill Clinton.
Photo: Adam Bettcher/Getty Images for Starkey Hearin
Bill Clinton had been a staple on the campaign trail in recent years, a huge draw for young Democratic candidates hoping to make a name for themselves. But this year, ahead of the midterms, the former president has been largely absent. This is because, as the New York Times reports, his history of sexual indiscretion has made many candidates see him as more of a liability than an asset.
"I'm not sure that with all the issues he has, he could really be that helpful to the candidates," Tamika D. Mallory, one of the organizers of the Women's March, told the Times. "It would do the Democratic Party well to have Bill Clinton focus on his humanitarian efforts."
The issues Clinton has include a critical reexamination of his treatment of then–White House intern Monica Lewinsky, as well as the allegations of sexual assault against him.
"It was an abuse of power that shouldn't have happened, and if the Clintons can't accept that fact 20 years later, it's hard to see how they can be part of the future of the Democratic Party," Democratic strategist Rebecca Kirszner Katz told the Times about the president's relationship with Lewinsky.
As Rebecca Traister wrote for the Cut in July, for the past 20 years, Clinton has been mostly exempt from having to answer questions about his role in the scandal (while at the same time, Traister notes, Lewinsky has been hounded about it constantly) because, despite his transgressions, he was still seen as an important resource for the Democratic party.
"Yes, many feminists defended Clinton against charges of harassment back in the 1990s, and that was in part because they felt they needed him," Traister writes, noting his signing of important legislating like the Family and Medical Leave Act, his appointment of Justice Ruth Bader Ginsberg, and his support of abortion rights. But while women like Lewinsky and Clinton's wife, Hillary, were asked to answer for his answers, the president wasn't, really — until now. And when he was faced, finally, with questions about the Lewinsky scandal, he seemed annoyed to have to revisit it.
While promoting The President Is Missing, the thriller novel he co-wrote with James Patterson, Clinton said he did not feel he owed Lewinsky an apology, and that, even in light of the #MeToo movement, he does not think he would handle the situation any differently. And last month, Hillary Clinton said she didn't think her husband's relationship with Lewinsky was an abuse of power because Lewinsky "was an adult."
But although Clinton continues to deny any wrongdoing, young candidates are increasingly trying to distance themselves from him. As one woman told the Times at a fundraiser for a Democratic congressional candidate in Arkansas, she believes one Little Rock mayoral candidate's recent praise of Clinton could cost him.
"I thought it was risky," Jenny Hopkins said. "That might sink his campaign right there."