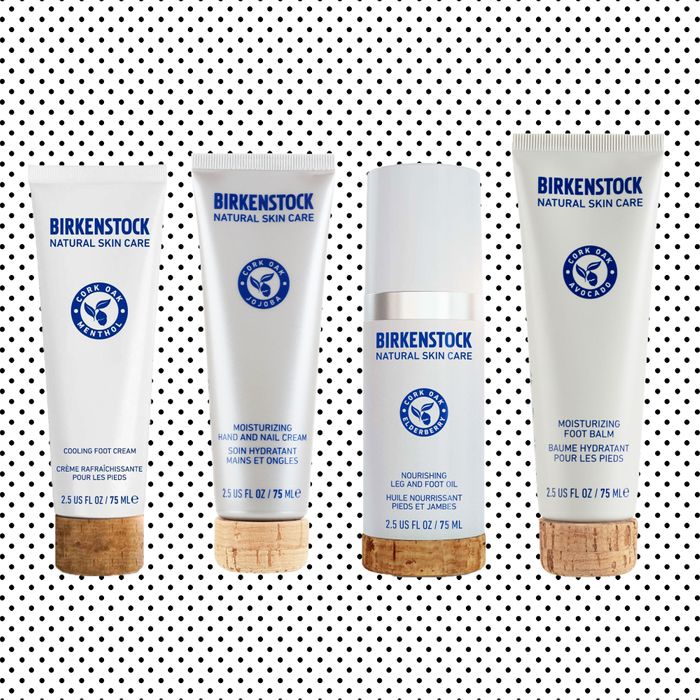 Photo: Courtesy of Birkenstock
We've talked about how to care for your face and hair when it's cold outside. We've talked about how to care for neglected butts and necks in general. But what about feet?! Apparently Birkenstock, of beloved ugly-shoe fame, has a natural skin-care line of 20-plus products. I'm happy to report that four of those products are available right this instant, and three of those four are dedicated to the skin on feet.
The products all live in Birkenstock's surprising "Cosmetics" section, which more surprisingly, is home to six different product collections: Natural Comfort, Natural Moisture, Natural Age Control, Natural Freshness, Natural Shapes (personal favorite on name alone), and Natural Man. It's, again, a surprising mix of facial and body care that covers a range of concerns, but they all have a few core things in common: They're natural, environmentally friendly, vegan, and contain suberin, a lifting, tightening, and anti-aging ingredient found in cork oak — that same stuff that lines Birkenstock sandals and makes them look Birkenstock-y.
Now, the majority of the collections that contain the face stuff won't be available until 2019 (sorry, shapes and men), but you can get your hands on the foot stuff right now. It's also known as the Natural Comfort range and consists of a moisturizing foot balm, a cooling foot cream, and a nourishing leg and foot oil (and a moisturizing hand and nail cream in packaging with a slightly different sheen, see below.)
Why am I telling you this seemingly random information? Because there's a saying that "Summer bodies are made in the winter," (questionable at best), but I think the inventor meant to say "feet." Summer feet are definitely made in the winter and this product lineup is kind of perfect for that pursuit.
All you need to do: Baby Foot away any post-sandal and post-mule buildup (it's November, no one will see your peeling if you live somewhere with seasons and are wearing seasonally appropriate footwear.) Then, start Natural Comfort-ing your lower leg, ankles, and feet right after your showers (to lock the moisture in). Slip into a pair of soft, warm socks. Light an expensive, festive candle. Eat some cookies. Let your summer feet incubate.
If you're still paralyzed by the decision to sheet-mask your butt or not, just move on to moisturizing your feet for now. It sounds cozier and I'm pretty sure Birkenstocks (the shoes) start to come out of hibernation before bikinis do.
This cream reduces swelling and has a pleasant cooling feeling.
This cream is an intensive moisturizer that "nourishes dry, raw feet," according to the website.
This one is meant to strengthen the barrier of your skin, and it's for legs as well as feet.
And this one is similar, but for hands and nails.
If you buy something through our links, New York may earn an affiliate commission.