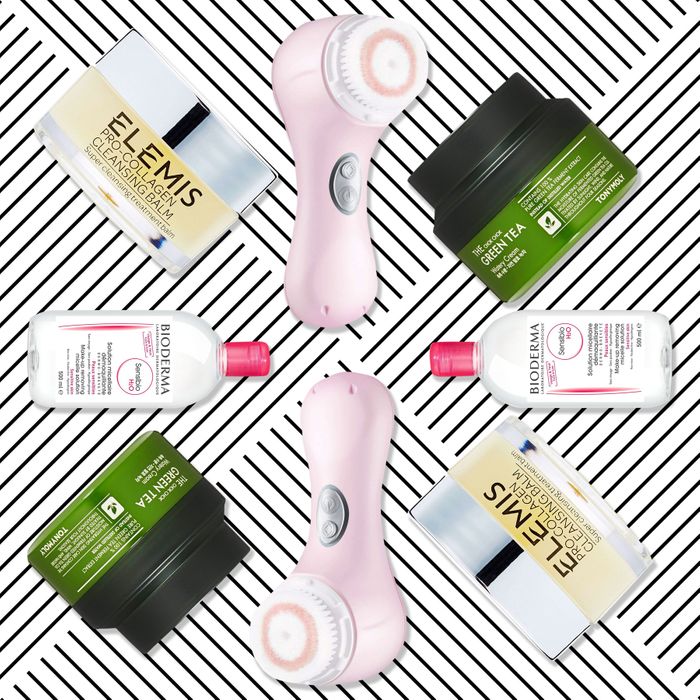 Photo: Courtesy of Amazon
In its plot to take over the world, Amazon has certainly not overlooked the fact that everyone loves a good beauty deal. Here are the best Black Friday discounts available on Amazon right now, from a great electric toothbrush (Beyoncé uses it so you know it's good) to a hydrating lotion. You'll also find the best makeup remover, everyone's favorite hair spray, and more.
The Beyoncé-Approved Toothbrush
The Cut's beauty director Kathleen Hou highly recommends this toothbrush: "It makes the task of brushing my teeth so easy. I can mindlessly shove it in my mouth while watching TV or walking around the apartment and be confident that by the end of the two-minute cycle, I'll have deep-cleaned my teeth better than if I attempted it on my own. It doesn't make me the most present when brushing my teeth, but who cares? Plus Beyoncé and Jay-Z allegedly own it, so double who cares?" It is on major sale. (The Strategist likes it too).
The Grandma-Approved Lotion Set
The ultimate in body-care staples, Nivea is your grandma's preferred hand cream for a reason: It's a classic, no-fuss moisturizing staple. This "Pamper Time" gift set boxes up some of Nivea's best sellers, including an in-shower body lotion.
The Chrissy Teigen-Approved Hair Product
As Chrissy Teigen once said, "If you're a hairstylist and don't have Oribe in your kit, I don't think anything of you." She later admitted that it was perhaps the bitchiest thing she ever said but she wasn't wrong. This is that rare, famous hair product that effortless does many things at once, effortlessly. It thickens, adds texture without the need for a heat tool, and adds volume. Basically, it makes your hair look about 30% better while using it. And it never, ever goes on sale, so thanks Amazon!
The Tea-Lover-Approved Face Cream
This is a super-hydrating Korean beauty cream that uses fermented green tea as a base instead of water. The result? A powerful boost of antioxidants helps soothe skin, and it's a great way to moisturize before applying makeup.
The Kate Moss-Approved Fragrance
This fresh, clean, classic scent is Calvin Klein's first foray into the world of fragrance. Consider it a great gift for your friend who is super nostalgic for the 90s.
The Makeup Artist-Approved Makeup Remover
Alert everyone who wears makeup: The best makeup remover in the world (seriously, even Pat McGrath uses this) is on sale. It feels like water and it removes makeup like you wish water would. Use it to wash off stubborn waterproof makeup, dip a Q-tip into it to perfect a cat eye, or cleanse your whole face with it like Solange does.
The Celeb-Approved Skin-Care Tool
If you have a Clarisonic, you probably don't change the brush heads enough…or possibly ever (no judgment)? Either way, you can buy a replacement right now on sale.
The Stylist-Approved Hair Dryer
A good quality hair dryer will make all the difference when you're trying to emulate Kate Middleton's blow-out. This is a powerful hair dryer that will minimize drying time and maximize shine, thanks to the supposed heat-distributing powers of titanium.
The Bella Hadid-Approved Acne Solution
The favorite zit zapper of Lili Reinhart and Bella Hadid is Amazon's special Deal of the Day. It's formulated with a combination of zinc oxide, sulfur, and salycylic acid which gives it a light pink (almost millennial color). Most importantly, it dries up zits basically overnight.
The Dermatologist-Approved Lotion
This is not your average body lotion — it's better. It contains lactic acid, which helps to gently exfoliate skin, allowing for the product to absorb more quickly and last longer while also improving skin tone over time. If you're struggling to find the best way to combat dry skin, this is a great buy.
The Posh Spice–Approved Cleansing Balm
Elemis is a British spa brand loved by Victoria Beckham, and this is one of their hero products. It helps dissolve dirt and makeup, but also deeply nourishes skin during the cleansing process with sweet almond oil, elderberry oil, and star flower oil.
The Beauty Pagent Contestant–Approved Hairspray
This is one of the best hairsprays, period. It lives up to its name, giving you a powerful, flexible hold. If you use too much, you can simply brush it out and style again. This unscented version is perfect for people who are sensitive to fragrance, or who simply don't want to choke to death in a cloud of hairspray.
The Nora Ephron–Approved (Probably) Anti-Wrinkle Cream
Don't do Nora Ephron wrong and forget to moisturize your neck. Your face lotion works fine, but in case you want something specialized, there's this positively reviewed cream from Strivectin. Despite being a relatively niche product, it has over 600 reviews and four stars.
If you buy something through our links, New York may earn an affiliate commission.