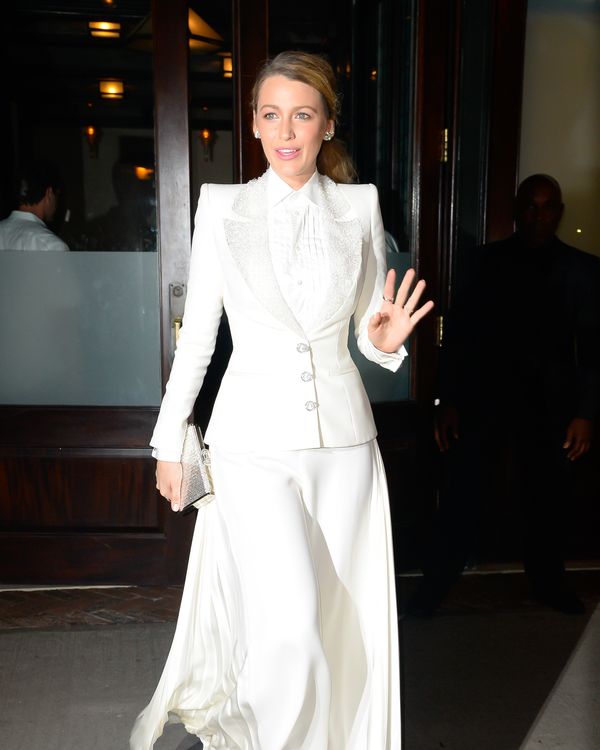 Blake Lively.
Photo: Raymond Hall/GC Images
Fashion happens faster than ever these days. Each week, we attempt to make sense of it in a column called, "What Is Fashion."
Earlier this year, there was one epic question gnawing at our brains: What was Blake Lively trying to tell us with all those suits?
My colleague Lisa Ryan took a hard look at the evidence and came up with a handful of logical conclusions, namely that reality should not be trusted. She was right, because Lively's suits were essentially a press stunt for Simple Favor, an absurd murder-mystery starring Lively as a pantsuit-obsessed PR director slash con-artist who, as the film's costume designer later confirmed, loves a good dickie.
A Simple Favor (not coincidentally) premiered during New York Fashion Week, and after seeing pantsuit after pantsuit walk the runway, I thought Lively might have been on to something. But after putting that idea out into the world, I honestly forgot about it, and Lively herself (mostly) retired her suits and canes, too.
Now, I see that Lively was actually a prophet; she predicted the future of fashion. What she was trying to tell us was so much bigger than pantsuits and public-relations strategies. It was this: Stop buying T-shirts!
I know, I know. It's a hard pill to swallow. But all signs are pointing toward a more tailored, more refined 2019. As fashion trends go, if last year could be summed up with 50 graphic T-shirts, then next year is sure to offer the exact opposite of that concept, which is sleek suiting.
Let's look at the evidence: After a pantsuit-heavy New York Fashion Week, we moved on to Europe, where the talk of the town was Hedi Slimane's debut at Celine. Once known for popularizing the skinny jean, Slimane showed a more grown-up collection this time around with eveningwear fancy enough to get you through the velvet ropes of a Paris nightclub. Demna Gvasalia, a designer known for applying luxury concepts to casual items like T-shirts and sneakers, showed not a single sneaker on his spring 2019 runway, and all T-shirts were hidden under sharp jackets. And Virgil Abloh, the streetwear king, has transitioned to designing suits not only at Louis Vuitton but also for his own line, Off-White.
In a recent interview with Vogue regarding Off-White's pre-fall 2019 men's collection, Abloh said that he's no longer designing for his 17-year-old self. "It's not youthful the way it was a year ago," he said. "It's not just jeans and a T-shirt. In the collection there's a strong emphasis of style."
As someone who's spent the past year (maybe two) dressing like a teenage boy, I read Abloh's quote as a pretty big deal. And you know what? He's right. I think I'm ready to spend money on something serious, as opposed to a lot of silly, cheap things. It was fun while it lasted, but it wasn't sustainable. When I packed up my closet and moved apartments this weekend, I was overwhelmed by the weight of things that will not last.
Of course, T-shirts, jeans, and sneakers in general aren't going anywhere. Slimane, Gvasalia, and Abloh have all proven that well-made casual clothing can be as refined as anything you can buy at Brooks Brothers. Plus, of course, they're still staples of most people's wardrobes. But this is about a shift in focus or intention. It's about deciding to express yourself through a series of minute, deeply considered aesthetic choices, rather than one loud graphic. I think this is what Abloh means when he talks about "a strong emphasis of style."
In that same spirit, Gvasalia calls the next wave of style "neo-tailoring." After his spring 2019 show, he told Vogue: "We challenged ourselves to make tailoring for today's generation. How can they wear a suit — which they never do?"
Before we get to the answer, we first have to understand what "tailoring" even means, since fashion people like to throw it around. In this context, it means revolutionizing the way casual clothes fit. So, if you're Hedi Slimane, that means considering whether or not we should be wearing skinny jeans with a low-rise or high-waist for the next trend cycle. If you're Demna Gvasalia, that means offering extra-long bootcut denim instead of slouchy sweats. These may seem like small, insignificant choices, but if you look back at something like Dior's "New Look," shifts in tailoring can define entire eras. We're arguing about high-waist flare pants right now for a reason.
Looking through Balenciaga's most recent resort 2019 lookbook, "neo-tailoring" seems to mean a statement jacket that isn't a suit. This is Gvasalia's new uniform. "There's no obligation to wear a shirt and tie, because the jacket has become the shirt. Somehow," he told Vogue. Jackets can also replace dresses, if you wear long ones, as Gvasalia suggests that you do.
Cristóbal Balenciaga was originally known for bulbous silhouettes. Gvasalia has applied these shapes to oversize parkas and sculptural, 3-D-printed jackets with square shoulders. In contrast, Slimane's silhouette is more fitted, and his lines razor-sharp. Abloh's suits, meanwhile, tend to either wrap or button to the side, like a robe. One sleeveless, halter-neck suit from his spring 2019 Off-White women's collection even seemed to replace the sports bra.
All three designers have done what you need to do in order to make tailoring matter, which is make it slight enough that it's still an in-the-know luxury, but recognizable enough that it can shape entire seasons to come. In 2019, clout will not be gained with a T-shirt, but by being able to tell whether a suit is from Balenciaga or Celine.
Maybe Blake Lively knew this all along. Maybe she saw the shifting of the tide; maybe she saw the heaping pile of trash (literal and metaphorical) that keeps growing higher and higher in the industry and understood that we needed a change. All I know, though, is that in the meantime, I need a T-shirt that says: My other T-shirt is a suit.