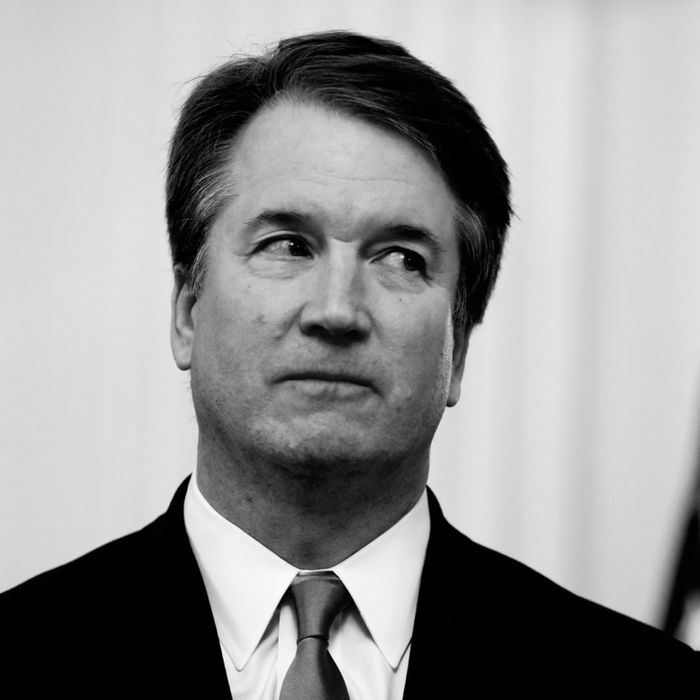 Brett Kavanaugh.
Photo: Chip Somodevilla/Getty Images
During the Senate Judiciary hearing regarding the sexual assault allegations made against him by Christine Blasey Ford, Supreme Court Justice Brett Kavanaugh broke down in tears. He claimed his life was going to be ruined by Ford's decision to come forward with what he claimed were false allegations. He was especially upset at the prospect of not being able to coach girls' basketball again.
"I love coaching more than anything I've ever done in my whole life," Kavanagh said during the hearing, blaming Democrats for his ills. "But thanks to what some of you on this side of the committee have unleashed, I may never be able to coach again."
Unsurprisingly, the sexual assault allegations had little effect on Kavanaugh coaching girls' basketball. According to the Washington Post, the Supreme Court Justice spent the weekend coaching his youngest daughter's basketball team through a tournament in Maryland, accompanied by a security detail.
Kavanaugh has mostly been out of the public eye following his swearing in to the Supreme Court. He is one of the least-supported justices of all time, and his confirmation was widely protested. His lack of popularity was a concern for the tournament organizer, Joe Sego. "I was very concerned when the confirmation hearings were going on that we could run into some issues," Sego told the Post. "But I figured since a little bit of time had gone on and things had kind of settled down, that it would be okay — and it was. There was no issue whatsoever."
Meanwhile, Christine Blasey Ford is still being forced to regularly relocate, and is spending hundreds of thousands on security to protect her family and herself from the threats that she is still receiving.