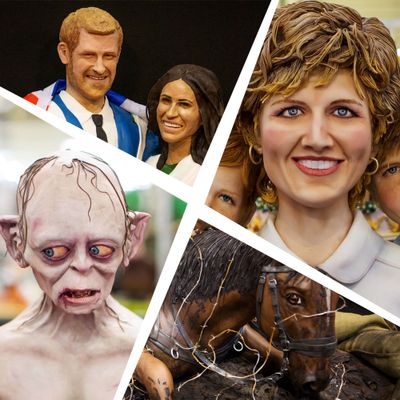 Spooky cakes.
Photo: PA Images
Not to sound hyperbolic, but The Great British Bake Off (the Mary, Sue, and Mel years) is both the best television show in history and the most relaxing piece of art ever created. Nothing is more calming than watching a bunch of nice British people be polite to each other as they bake under a colorful tent in the lowest-stakes reality competition show ever created. This means that, generally, I associate British cakes with the cozy feeling I get from watching that show. Never would I have imagined the true horror of the lifelike cakes at a recent Birmingham, U.K., international cake exhibition.
Before we go on, I'd like to make it clear that I am not insulting the skilled bakers who created these cakes; from my understanding, baking is hard, and often you have to work with other bakers to finish your creations before Mary Berry and Paul Hollywood stop by to critique you (at least, that's what happens in the TV show). Thus, I'd like to commend each of the bakers who participated in the Cake International exhibition over the weekend. You each did a good job and I'm proud of you.
That being said, I now know that there is nothing more unnerving than a giant realistic cake version of a British personality — be it a live royal or a dead one. Take, for instance, this life-size cake version of Prince Harry and Meghan Markle.
It's truly an impressive creation — the chocolate cake apparently took 250 hours to make, and involved 300 eggs. I'm sure it's delicious, and it's thoughtful that the baker added a baby book and diaper bag as a nod to the couple's impending royal baby. But the cake also looks like a claymation version of the royal couple that I'd otherwise only encounter in a nightmare.
Not to be outdone, there's also a cake version of Princess Diana with young Prince Harry and young Prince William.
It's … haunting.
Or how about this cake version of Gollum from Lord of the Rings?
I am not into LOTR to even half a degree as some of my co-workers, but I have seen the movies and know Gollum was always a bit spooky. This cake version merely brings his spookiness to life. He's also eating cake made to look like flesh.
There was also a creepy cake version of Laurel and Hardy …
… that looks like something out of The Nightmare Before Christmas.
And of course, a cake War Horse …
… which I think I don't really need to comment on.
Now I'm both terrified and hungry. Excuse me while I go put on some season-two episodes of The Great British Bake Off and let Mary Berry's thoughtful commentary and the touching camaraderie of the helpful contestants calm me down.