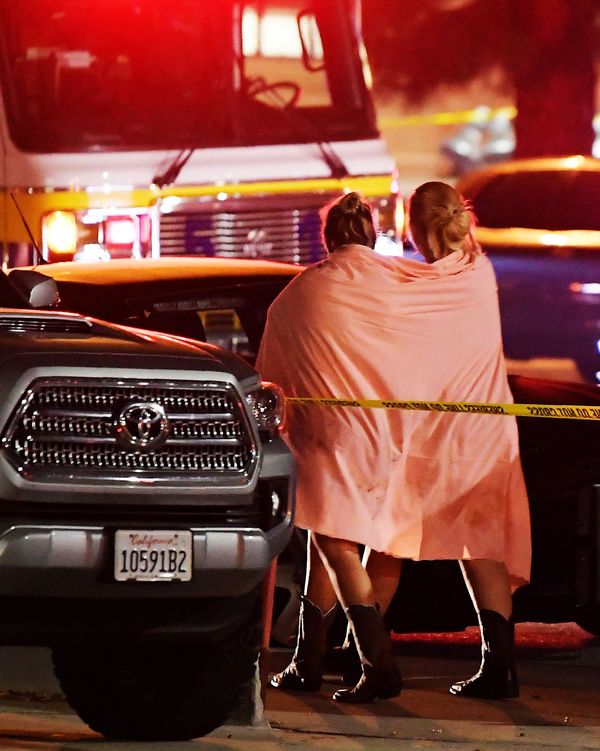 People leave the scene of the shooting at the Borderline Bar and Grill.
Photo: Mark J Terrill/AP/REX/Shuttersto/Mark J Terrill/AP/REX/Shutterstock
A gunman entered a bar packed with college students in Southern California's Thousand Oaks late Wednesday night, firing multiple shots and killing at least 12 people — and himself. The suspect has been identified as a 28-year-old white man and former marine, and was recently accused of sexual-assault by his high school track coach. Details about the horrific mass shooting are still coming in, but here's what we know so far.
What happened?
The shooting took place at a Western-style dance hall called Borderline Bar and Grill in Thousand Oaks, in the northwest region of the Greater Los Angeles Area, which was holding an event for college students. Nearly 100 people were there at the time of the attack.
According to recent reports, a man wearing a black sweater, hat, and glasses walked up to the bar and shot a security guard standing outside, before entering, turning to his right, and shooting several other security guards and employees inside. He then walked onto the crowded dance floor, where people were line dancing, at around 11:20 p.m. He opened fire within seconds.
"I started hearing these big pops," one witness, John Hedge, told KABC. "Pop, pop, pop. There was probably three or four. I hit the ground."
Chyann Worrell, a junior at California State University Channel Islands who was at the bar to celebrate a friend's 21st birthday, said she saw the assailant draw his gun and aim it at a man near the front of the bar.
"Within a split second, everybody yelled, 'Get down,'" student Taylor Whittler told KABC.
A man and his stepfather, interviewed by ABC7 Eyewitness News, said they heard about a dozen shots before they were able to flee the scene.
"He fired the first shot," the stepfather said. "And I knew it was real. My son thought it was a joke, so I pulled him down and got some cover. I looked up, and he was moving to the right. He shot the front doorman, who was just a young man. Then he shot the cashier, just a young girl."
The gunman then threw a smoke grenade, he said. Some people used bar stools to smash windows and escape. When police arrived three minutes after the first 911 call, shots were still being fired.
"It's a horrific scene in there," Ventura County Sheriff Geoff Dean told reporters Wednesday night. "There is blood everywhere."
Who were the victims?
The bar is near several college campuses, and Wednesday theme nights draw crowds of students; this one was "college country night," according to the bar's website. At least 11 bar patrons and a sheriff's deputy, named Ron Helus, were found dead Wednesday night. Helus, a 29-year police veteran who was looking to retire within the next year, had already died when other officials arrived at the scene.
Among the other victims: Noel Sparks, a member of the United Methodist Church of Westlake Village described as "genuinely caring"; Dan Manrique, a Marine Corps veteran; and Justin Meek, a California Lutheran University recent graduate who was said to have save lived during the shooting. Another victim, Cody Coffman, just turned 22 and was ready to join the Army. And the parents of Alaina Housley, a Pepperdine student who died in the attack, described her as "an incredible young woman with so much life ahead of her … we are devastated that her life was cut short in this manner."
Telemachus "Tel" Orfanos, who lost his life at Borderline, had survived the Las Vegas music festival last year, where 58 people were killed and over 500 injured — the worst mass shooting in U.S. history. According to one man who was about to enter the bar when the shooting happened, many others who attended the festival were also there that night.
"My son was in Las Vegas with one of his friends and he came home. He didn't come home last night," Telemachus' mother, Susan Schmidt-Orfanos, said. "And I don't want prayers, I don't want thoughts, I want gun control and I hope to God nobody else sends me more prayers. No. More. Guns."
Dean said that "there were multiple other victims of different levels of injuries."
Who was the gunman?
The suspected gunman was identified Thursday morning as Ian David Long, a 28-year-old "heavily tattooed" white male and former marine, armed with a single .45 caliber Glock handgun. Long was on active duty with the US Marine Corps from August 2008 to March 2013, according to Department of Defense records. Dean confirmed that Long shot himself; when officials arrived at the Borderline, he was found dead inside an office next to the bar's entrance.
When the news came out, Long's high school track coach, Dominique Colell, said he sexually assaulted her. "I turned on the news and I was watching it and when they said his name my jaw just dropped," Colell told CBS Los Angeles. She said he "attacked" her his senior year, when someone found a phone and she was trying to figure out who it belonged to.
"Ian came up and started screaming at me that was his phone," she said. "He just started grabbing me. He groped my stomach. He groped my butt. I pushed him off me and said after that — 'you're off the team.'" She didn't report it, saying she was encouraged by other coaches to accept his apology, so as not to ruin his future in the Marine Corps. "I should have reported it then," she added. "This kid was mentally disturbed in high school. There were signs and the administration knew it."
Sheriff Dean also described several "minor" run-ins law enforcement had with Long, in which he acted "somewhat irate" :
"We've had several contacts with Mr. Long over the years, minor events, a traffic collision. He was a victim of a battery at a local bar in 2015. In April of this year, deputies were called to his house for a subject disturbing. They went to the house, they talked to him. He was somewhat irate. Acting a little irrationally. They called out our crisis intervention team, our mental health specialists who met with him, talked to him and cleared him. Didn't feel he was qualified to be taken under 5150. And he was left at that scene last April."
There is currently no known motive in the shooting at Borderline Bar and Grill.
"This guy just came out of nowhere and came out with a gun and shot people in Thousand Oaks, California," another witness, Holden Harrah, said. "And that's what's really blowing my mind — it's a really safe area."
Many shared the sentiment: disbelief that something so violent could happen at their local college hang-out spot. According to Mayor Andy Fox, Thousand Oaks is considered one of the safest cities in the country, with one of the lowest crime rates per capita. "It's safe. It's a safe place to be," Erika Sigman, a sophomore at Cal State Channel Island, told the Times. "You can stay out all night at Borderline because there's major security."
"The reality is that these types of incidents can happen really at any place, at any time," Fox said. "Even in communities that are considered extremely safe."
California State Senator Kamala Harris responded to the mass shooting by urging Congress to tackle gun laws, writing, "Leaders in Congress must act — not some day, but now."
This post will be updated as more information becomes known to the public.