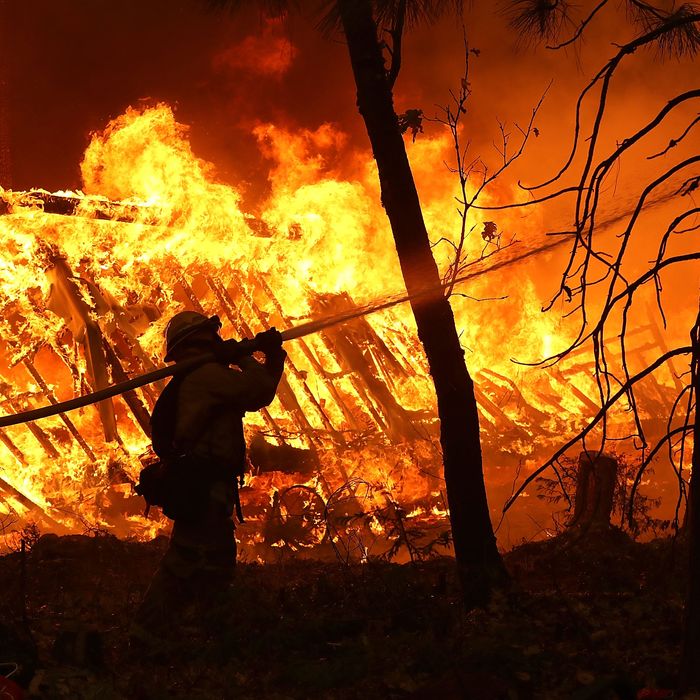 California wildfire.
Photo: Justin Sullivan/Getty Images
Since last Thursday morning, a number of wildfires have ignited across California, scorching hundreds of thousands of acres and disrupting the lives of even more. Together, the fires are the most destructive and deadly in California history. In just the past few days, more than 65 people have died in the fires, and thousands of homes, belonging to working-class families in suburbs and major celebrities alike, have burned down.
Below, here's everything to know about who the fire has impacted, how politicians are responding, and how you can help those affected by the fire.
How many fires are there?
There are three major fires ripping across the state: Woolsey, Hill, and Camp Fires. Scientists believe that as the temperatures increase every year as a result of climate change, dry areas become drier, and snow melts earlier in the spring. As a consequence, wildfire season gets longer and longer.
In Southern California, the Woolsey Fire has spread to more than 98,000 acres across Los Angeles and Ventura since it was sparked south of Simi Valley on Thursday afternoon. The fire has forced more than 200,000 people to evacuate, the Los Angeles Times reports, and has scorched nearly 435 structures. As of Thursday morning, the fire is only 52 percent contained, according to the California Department of Forestry and Fire Protection.
Also in Ventura county is the Hill Fire, which has spanned over 4,500 acres. As of Tuesday morning, the Hill fire was 90 percent contained.
Up north, near the cities of Chico and Paradise, is the Camp Fire, which is the most destructive and deadly in California history. Since it stared early last Thursday morning, more than 50,000 people have evacuated their home. Per the California Department of Forestry and Fire Protection, the fire has burned 141,000 acres and destroyed more than 10,300 homes, NBC reports. As of Thursday evening, the fire was 40 percent contained.
On Monday morning, the Los Angeles Times reports that two more small fires broke out in Ventura County.
How many people have been affected?
In total, more than 300,000 people have evacuated their homes, and at least 66 people have died in the fires (63 in the Camp fire and three in the Woolsey fire). There are also more than 600 people unaccounted for in the region scorched by the Camp Fire.
What celebrities have lost homes?
Gerard Butler, Miley Cyrus, Robin Thicke, and Neil Young are among those whose houses were destroyed by the fires; many took to social media to support firefighters and encourage others to do so as well. There are also a number of celebrities, including Kim Kardashian West and Lady Gaga, who have had to evacuate their homes.
What has the official response been like?
California governor Jerry Brown emphasized the role of climate change in wildfires, which climate scientists say now lack seasonality. (With an increase in average temperature, fire season is getting increasingly long.)
"This is not the new normal, this is the new abnormal," Brown said. "The chickens are coming home to roost, this is real here."
Los Angeles County Fire Chief Daryl Osby echoed Brown's message, saying, "As evident by the Camp Fire in Northern California, which is larger than this, more structures have been lost than this, more lives have been lost, it's evident from that situation statewide that we're in climate change and it's going to be here for the foreseeable future."
Meanwhile, President Trump condemned California's forest management instead of offering his condolences to residents of the state, and even went so far as to threaten to withhold federal payments.
"There is no reason for these massive, deadly and costly fires in California except that forest management is so poor," he tweeted on Saturday. "Billions of dollars are given each year, with so many lives lost, all because of gross mismanagement of the forests. Remedy now, or no more Fed payments!"
This claim is entirely unfounded, as many California politicians and firefighters reminded Trump.
"Dear @realDonaldTrump: What is wrong with you?" Representative Ted Lieu tweeted. "Disaster victims deserve help & sympathy. Oh, and guess who owns much of the forest land in CA? Your federal agencies. CA only owns 2%. Guess who cut funding to forest management in the budget? YOU DID."
The Pasadena Firefighters Association also disputed Trump's claim, tweeting, "The fires in So. Cal are urban interface fires and have NOTHING to do with forest management."
How can you help?
There area number of organizations you can donate to: the California Community Foundation's Wildfire Relief Fund, which rebuilds homes and provides financial and mental-health help to those affected by wildfires; the United Way of Greater Los Angeles, which is raising money for low-income residents affected by the fires in Southern California; and Enloe Medical Center, a hospital in Chico, a site affected by the Camp Fire, which is accepting donations to help displaced families.
Or, if you're in the Los Angeles area, the Los Angeles County Department of Animal Care and Control is asking people to visit an animal care center to adopt a displaced pet. (The Agoura Animal Care Center was evacuated but other centers remain open.)