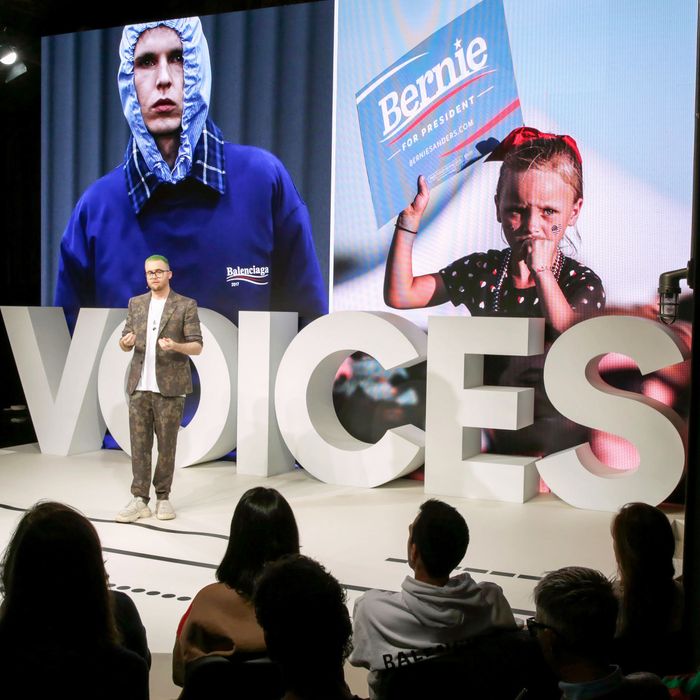 Christopher Wylie speaking at the 2018 Business of Fashion VOICES conference.
Photo: John Phillips/Getty Images for The Business of Fashion
It's not a secret that clothes can tell you a lot about the person wearing them. It's also not a secret that fashion brands — and just about everyone else — use the data regarding what you like and don't like to sell you more of the former.
But on Thursday morning at the annual Business of Fashion VOICES conference in Oxfordshire, England, Cambridge Analytica whistle-blower Christopher Wylie revealed publicly for the first time that Donald Trump's campaign used data on people's fashion preferences to help win the 2016 U.S. presidential election. While this news may not be surprising, it is certainly unsettling.
"When SCL Group, this military contractor, became Cambridge Analytica after Steve Bannon and Alt-Right billionaires bought it and changed the research that we were doing, one of the first things that they realized was how powerful fashion is, and how powerful it is to understand how people engage with clothing," said a neon-green-haired Wylie, who wore a Stella McCartney suit and chunky white sneakers to give his talk.
Equipped with the data of some 87 million Facebook users, Cambridge Analytica targeted those who "liked" certain brands with pro-Trump messaging. The examples Wylie gave were "American heritage" brands like Wrangler and LL Bean, versus more European luxury brands like Kenzo. Cambridge Analytica then organized these brands based on five key personality traits of their fans: openness, conscientiousness, extroversion, agreeableness and neuroticism. Wrangler and LL Bean customers, for example, were "low on openness," and "more conventional," which, in the eyes of Cambridge Analytica, meant that they were more likely to respond to pro-Trump propaganda.
"Fashion data was used to build AI models to help Steve Bannon build his Insurgency and build the Alt-Right," Wylie added, matter-of-factly. "We used weaponized algorithms; we used weaponized cultural narratives to undermine people and undermine their perception of reality, and fashion played a big part in that."
After emphasizing the dangers of what he calls the "data trade," and the sinister motives of tech giants like Facebook, Wylie concluded by encouraging fashion brands and industry professionals in the audience to use their cultural messaging for good, not evil.
"The colonialism, the racial biases, the toxic masculinity, the fat-shaming that this industry puts out, and has been putting out for decades, is exactly what Cambridge Analytica sought to exploit when they were seeking to undermine people and manipulate them," Wylie said. Adding: "It is up to you if Trump or Brexit become the Crocs or the Chanel of our political age."
The irony, of course, being that Gabrielle Chanel herself had a questionable political past.