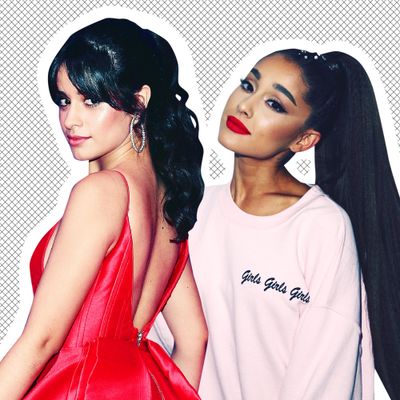 In a recent Twitter exchange between singers Camila Cabello and Ariana Grande, our worst fears were confirmed: High ponytails are as painful as they look. The news broke yesterday at 11:25 a.m. when Cabello broadcasted via tweet that she had attempted Grande's signature hairstyle "for the first time," at the MTV EMAs in Spain. It didn't go so well.
Photos of Cabello on the EMAs red carpet show many strained, close-mouthed smiles, a telling sign that one's scalp and brain are being pulled on. Videos show Cabello desperately attempting to alleviate the pain with her hand.
Naturally, Cabello turned to Grande, trusted friend and our generation's high-pony inventor, seeking advice on how to bear the weight of one's own hair. Grande's response started off with a glimmer of hope, leading us to believe that since her famous ponytail is a protective style full of tossable extensions rather than all of her actual hair, the pain isn't too, too great. But alas, we live in dark times.
Unlike Grande, Cabello, however, did seem to care. She made it a whole 24 minutes with her high ponytail before taking out it 11:49 a.m. and slipping a "thank u, next" mention in there.
Cabello has since stated that she is "literally never doing that hairstyle again." In other news, she also asked Grande to be her wife again, which Grande happily accepted in a separate Tweet. Happy for them both. Almost as happy as Cabello looks after letting her hair back down yesterday.