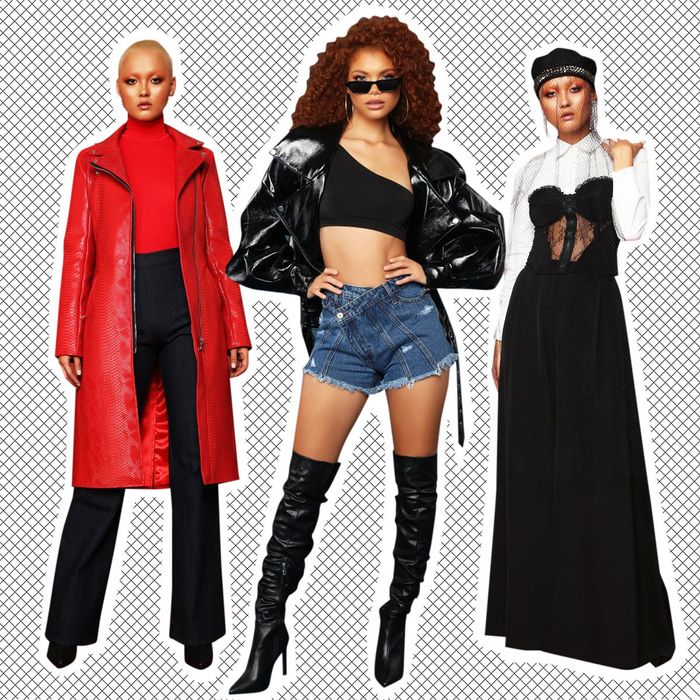 Cardi B x Fashion Nova.
Photo: Courtesy of Fashion Nova
It would be easy to assume that Cardi B's new Fashion Nova collection is an exercise in personal branding, not fashion design. Pieces are dubbed with names like the "Okurr Top" and "Never Get Cold Fur Coat" — a reference to one of her early viral videos, in which she walks out of a hotel room wearing nothing but a bra and a pencil skirt and declares: "A hoe never gets cold." But to see Cardi B's work as merely a commercial ploy would be to sell her short.
Of course Cardi wants to leverage the catchphrases that helped her gain 35 million followers; her way with words has already proven it can sell both records and Christian Louboutin shoes. And of course she's found a way to further benefit from her relationship with Fashion Nova, a brand that was on her side long before Dolce & Gabbana came calling. What's made Belcalis Marlenis Almánzar famous is her extraordinary ability to triangulate fashion, music, and social media — and as a result, make money move. But above all, Cardi B is a talented artist, and her creativity and, yes, good taste, clearly extend to fashion design, too.
"I like to sell and I like to prove to people that work with me that I could make items and products that sell," Cardi told Elle magazine ahead of her Fasion Nova launch. But if the clothes have her name on them, they better look and feel like a million bucks, too. "I told Fashion Nova that the brand's got to be good material and it has to be planned out," Cardi continued. "You cannot just be like a pig that is like, 'Ha-ha-ha.' That's why we been working on this shit for like five months."
Many celebrities would just take the check and run, but Cardi clearly did her homework. Having sat front-row at fashion shows around the world, she knows what's trending from firsthand experience: faux fur, plaid, '80s power shoulders. Scrolling through the collection, you might notice references to brands like Saint Laurent, Dior, and Chanel. Some brands have even made copying claims on Twitter. But unlike other fast-fashion lines, Cardi's clothes don't feel designed by an algorithm; they've got her unique personality written all over them.
When it comes to her own style, Cardi loves a good suit. The collection includes "I'm a Boss" monochromatic options, plus at least one sheer turtleneck. Cardi is here for the woman who wants to get money, corporate-style. (A "Check the Resume tweed matching set" says as much, despite not being entirely office-appropriate.) But she also offers the option of wearing a suit without a shirt underneath, à la the ultimate businessman, Jay Z.
The strongest looks in the collection, though, are the ones that blend traditional codes of affluence with Cardi's New York hustling instincts. A "Million Dollar Deal" cut-out denim jacket, for example, is styled with a "From the Bronx" denim skirt, which has plenty of pockets for the woman on the go. And one of my personal favorites was a pair of "I Do What I Like" wide-leg suit pants styled with a "Bitch I'm Signin'" top, which is both a revealing lace corset and a button-up shirt.
As with her music, Cardi's Fashion Nova collection is a take on being both an insider and an outsider in the world of luxury — one in which she gets the last laugh. (And the check.) It's size-inclusive, but in a way that feels natural, not forced. "I'm a very thick and I'm a short-thick girl, and not a lot of high-end clothes fit right," Cardi told Elle. It's meant to make you feel powerful and expensive in every way. And it has a sense of humor about itself, while also being seriously good — a Cardi B special.
As anyone who's had the pleasure of sitting across from Cardi B at a fashion show will tell you, she seems to just love fashion. It makes her smile and purr and whip out her phone. In this way, luxury fashion designers could perhaps learn a thing or two not only from the product she puts out, but also from the authentic energy she breathes into it. Personally, I feel moved to buy something from the Cardi B x Fashion Nova collection — but of course, it's already sold out.
This post has been updated throughout.