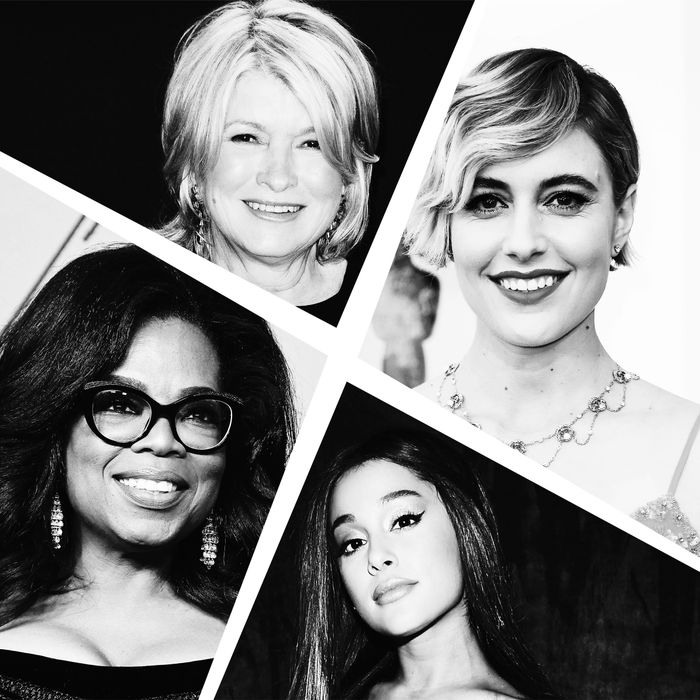 'Tis the season for gifting and gift hunting, so we rounded up the weirdest, most memorable presents that famous women like Martha Stewart, Greta Gerwig, and Mariah Carey have ever given or received. It should come as no surprise that Oprah leaves Santa in the dust in the gift-giving department. Read on for some of the best presents — including cute animals, a live-in nanny, and copious amounts of cheese — that made these women feel warm, understood, and appreciated.
1. Greta Gerwig: Rachel Comey Loafers
"Miranda July gave me a pair of Rachel Comey loafers. She said, 'I don't think I would be able to wear these, but I think you could wear them.' I wear them all the time!" —The Cut, December 2014
2. Mindy Kaling: A Bookcase From Oprah
"I got a call from my assistant. She said, 'Oprah's assistant contacted me, she'd like to drop off a present.' I'm thinking, that's so nice, like, [it's] probably flowers. I had a kid, I'm a single mom. That's really nice Oprah remembered. Two men are going to be coming to your house, they said, with a U-Haul truck … They arrived with a hand-carved bookcase, prettier than any professional dollhouse you had ever seen, that contained a hundred of the classic essential books in children's literature. And I held my baby [Katherine] up to it and I said, 'Did you see what Miss Winfrey did for you?' And each book has 'Katherine's Book Club' on it." —USA Today, February 2018
3. Martha Stewart: A Pooping Reindeer
"Mine was a plastic reindeer that excreted chocolate chips from the behind given to me by a distant aunt that thought I was 12. I was 25 at the time." —Martha Stewart, December 2013
4. Kristen Bell: A Rented Sloth
"The day of my birthday, we're sitting in the living room and I hear a knock at the door. [Dax] says, 'Your present's here. Why don't you grab the dogs and go in the back room?' And I had no context for knowing what it was … and I immediately was overcome and I thought, There is a sloth near. There is a sloth here, it's close, it's gonna happen. I didn't know how to process that because my entire life had been waiting for this moment where I would get to interact — I'm serious! — with a sloth … First thing you should know about me: If I'm not between a three and a seven on the emotional scale, I'm crying … I am sitting on my bed, knowing that my sloth is here. I start to have a full-fledged panic attack. I don't know how to compete with all this emotion so I just kind of crawl up on the bed and I'm crying so hard. Dax knocks on the door and he has a video camera and he's like, 'Surprise! I want you to come out into the … are you alright?' And he sees me basically fetal on the bed." —The Ellen DeGeneres Show, January 2012
5. Chrissy Teigen: A Cheese Wheel
"John got me my lifetime dream for Christmas! A cheese wheel to dump pasta and risotto in for years to come! My tableside serving game is bout to be liiiiiit! Heading out to relax with the fam now woohoo! ❤️🌴☀️…If you haven't seen one of these wheels in action oh man, it is a thing a beauty. Hot pasta is tossed around, gently melting the cheese and plated right at your table. 😩😩😩 It makes me emotional" —Instagram, December 2015
6. Mariah Carey: A Relaxing Morning
"My favorite Christmas gift is to have a relaxed Christmas and to give gifts. I love giving gifts. It's almost like I don't open my gifts until, like, three days after Christmas, 'cause I want to give everyone else their presents. Especially now having my own little babies, it's all about them." —Buzzfeed, June 2015
7. Nina García: A Dog
"The best holiday gift that I received was a dog that my dad gave me when I was a child. It was a surprise on December 24th. We named him 24." —HuffPost, December 2017
8. Olivia Munn: A Life-Size Yoda
"So in the original Star Wars there were like 120 life-size Yodas that they used in the group shots. [They were made by] this company, Gentle Giant, which is one of the companies that creates a lot of these sculptures and so much of the stuff that we see in the movies we love. Years ago, I expressed how much I loved it and they sent it to me. I actually have No. 120. It's like owning Harrison Ford's elbow. It's like an actual part of the movie." —The Strategist, December 2016
9. Tiffany Haddish: A Tesla
"So I got this message from my friend and Big Brother @tylerperry a week ago. When I tell you I cried so hard. I almost couldn't believe it. 1st off a man has never bought me a car out right. I have always had to make payments. This was just out the kindness of his heart And probably tired of me talking about it all the time and I didn't have to do anything for it but a Great job in our New Movie Nobody's Fool. Thank God for kind people that want to spread happiness. I am now on my way to see if this is Really! Cause I am still waiting on the one @theellenshow said they would let me use for a week. #sheready #Tesla #Nobody'sFool #thelastblackunicorn" —Instagram, July 2018
10. Elle Fanning: Contact Solution
"I once received contact solution. My sister and I talk about this all the time; we were really young girls and it was Christmas and one of our relatives gave us contact solution. Neither of us had contacts or wore glasses." —W Magazine, November 2017
11. Emma Thompson: Wine Tastings
"My husband gave me a wine course, so I went and did a wine course for a week and that was really good because I love wine and now I know a little bit about it. The worst gift I ever received was from my old Aunt Mill, who sent me a half-eaten candy bar at Christmastime." —W Magazine, November 2017
12. Dolly Parton: Fast-Food Gift Cards
"My favorite stocking stuffers are gift cards to my favorite fast-food restaurants. And you can never go wrong with makeup." —New York Post, December 2016
13. Issa Rae: A Fancy Dinner
"My best birthday present was probably a surprise dinner with all my loved ones when I wasn't expecting it." —Us Weekly, August 2018
14. Karlie Kloss: Kitchen Utensils
"I love gifts that are really practical and relate to the person's interests. For example, I love all the kitchen and baking gear I've received over the years because they are things I use on a regular basis and remind me of the person who gave them to me. I try to apply that to my own gift giving and pick out things I know the person will use, like a fitness tracker for someone who loves to work out or a spiralizer for someone who loves to cook." —W, December 2016
15. Tavi Gevinson: An Electric Guitar
"I got an electric guitar for a birthday/middle school graduation present." —Urban Outfitters, 2012
16. Leandra Medine: Celine Earrings
"When my company was much much smaller, I used to try and give personalized gifts to my employees like I'd give Amelia — Amelia's our Head of Creative — something that I knew she wanted. Like, if it was a Celine earring, and I'd really wait until down to the wire when things started going on sale so I could get better value at a price point I could afford." —InStyle, November 2017
17. Gayle King: A Live-in Nanny From Oprah
"After I had my second baby — and they're 11 months apart — [Oprah] gifted me a live-in nanny. I could never have afforded it." —Watch What Happens Live With Andy Cohen, November 2017
18. Emma Stone: A Special Chair
"A hand-made rocking chair." —Vogue 73 Questions, October 2016
19. Ariana Grande: A Vintage Ring
"The best gift I ever got was actually this year from my Nonna. She gave it to me early because she had a dream that my grandpa came to her and said, 'She has to have this now.' So she gave me a ring that is like a pearl that I usually have on — I don't have it on today — but it's a pearl from my grandpa's tie pin, so she it turned into a ring so I can always have it on. That's my favorite gift ever." —iHeartRadio, December 2014
20. Cate Blanchett: Fine Art
"A painting by Mavis Ngallametta." —Marie Claire, July 2014
21. Ann Curry: A Water Buffalo
"I was once given a water buffalo to help a family in Nepal (through Heifer International). Best present ever." —PBS, December 2017
22. Renée Fleming: A Horse
"On Christmas morning when I was 12 years old, I was shocked to see a trailer pull up to our suburban tract house with a young horse. As a shy child, I spent much of my time dreaming and reading, and the greatest dream was having a horse. This gift taught me to believe that dreams come true, which is why I never doubted that I could become a singer." —PBS, December 2017
23. Jennifer Aniston: A Toilet
"I gifted someone a Toto toilet, which I thought was fabulous. Who doesn't love a Toto toilet? I thought that was a great gift. Once they experienced it, they were like, 'What have I been doing my whole life with this ordinary toilet that doesn't talk to me?' It's like you have a friend waiting for you. That's actually sort of gross. And I always love giving an astrology reading. I love psychics and astrologers and I think that's a fun gift to give." —Parade, December 2016
24. Alexa Chung: A Custom Ring
"An ex engraved a ring with one of my sketches, which was pretty special. I always buy people clothes I think they'll like, but none stand out in my memory, so it turns out I'm bad at gift giving." —Elle, September 2017
25. Oprah Winfrey: Ugly Christmas Sweaters for Dogs
"May I just tell you that the present that I got in the room just now was one of the best presents I've ever gotten. I'm not kidding. I'm not kidding. And I'm going to tweet it out … Do you know what you gave me? Ugly Christmas sweaters for my dogs! They are so cute! I got five dogs. I got two Goldens, one Cocker, and I got two Springers, so I'm going to get them all dressed up … I can't wait! … Well, this is a great thing to get. I think when you don't know what to get somebody, get somebody something for their dogs. So anybody that gets you anything for your dogs, you love them." —The Tonight Show Starring Jimmy Fallon, December 2014
If you buy something through our links, New York may earn an affiliate commission.