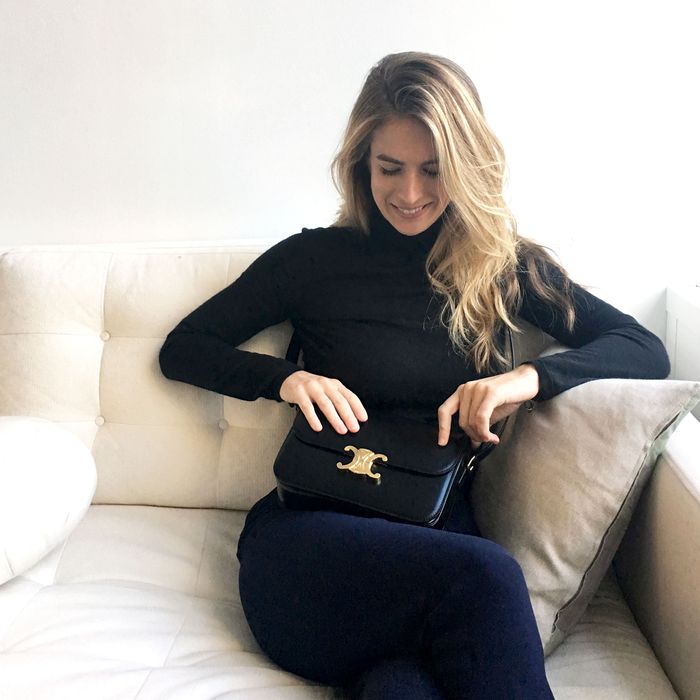 Ruth Spencer looks lovingly at Celine's newest bag.
Photo: The Cut
Ruth Spencer, deputy editor of the Cut, walked into my office a few weeks ago at the exact moment I was unboxing one of the new Celine bags we'd called in. Ruth is stylish, but not what I would call a "fashion person," by which I mean she likes what she likes, unfettered by the politics of what she's supposed to like according to the whims of the high-fashion community. So it was noteworthy to me when Ruth encountered the bag in question and had an immediate, dramatic — dare I say passionate — response. I decided to commemorate this exchange in the form of a one-act play.*
Dramatis Personae
Stella Bugbee, editor
Ruth Spencer, deputy editor
Emilia Petrarca, fashion writer
SCENE: An office in Manhattan, 2 p.m., bright winter sun streaming through the window, art books and papers littering the desk, which faces a white couch.
TIME: The present.
(Stella stands in the middle of the room, wearing the bag and trying to see herself in the reflection of her office window.)
ENTER RUTH STAGE RIGHT.
Ruth: OOOH … I … want to have sex with that bag.
[Touches the leather and runs her fingers over the golden clasp as Stella wears it cross-body.]
Stella: Really? That's a very strong reaction!
Ruth: I can't explain it. I want to put my mouth against it.
[Stella removes bag and hands it to Ruth so she can fondle it.]
Stella: Tell me what you love about it?
Ruth: I don't know! I can't stop staring at it. Is it expensive?
Stella: Yes. It's over $3,000. But isn't it so pretty?
[Ruth sits on couch, gazes lovingly at purse, holds it to her face.]
Bag [speaks like the voice of God]: Touchez moi.
Stella: Did the bag just … whisper something to you?
Ruth: I thought only I could hear it!
Bag: Ouvre moi.
Stella: Whoa.
Ruth: I think we're soulmates.
Stella: Shall I marry you two right now?
Ruth: Yes. Yes!
[Ruth stands up with the Bag, facing big, messy desk.]
Stella: Celine Bag, do you take Ruth to be your lawfully wedded wife?
Bag: Oui.
Stella: Ruth, do you take this bag to be your lawfully wedded … bag?
Ruth: I do.
Stella: Does anybody object to this union or know why Ruth should not spend her life loving this perfect, beautifully stitched, supple bag that looks just fancy enough, but not too fancy, whose clasp is reminiscent of a fleur-de-lis and quite likely something revived from the Celine archives? Speak now or forever hold your peace.
ENTER EMILIA PETRARCA STAGE RIGHT
Emilia: Wait!
[Emilia Petrarca bursts through the office door. Stella, Ruth, and the Bag turn to face the intruder.]
Emilia: Ruth! Are you sure understand what you're committing to by choosing that bag?
Ruth: No, but if it's wrong then I don't want to be right.
Emilia: It's not wrong. But it's not Phoebe.
Ruth [asks bag]: Who is Phoebe? Did she have you before I did? Did you love her?
Emilia: Okay wow, so you know nothing. Phoebe Philo was the beloved designer of Celine for the last ten or so years. She stepped down in December of 2017 because she was tired of it all. Remember when Stella wrote about how she'd never get over it?
Ruth: Maybe? Rings a bell?
[Holding tighter to the bag, the strap of the bag kisses Ruth's neck tenderly.]
Stella: Ruth, don't worry about Emilia! She's just trying to protect you from the controversy over Hedi Slimane — some fashion critics are mad that he is the new designer at Celine.
[Ruth looks up from the bag with a confused expression.]
Stella: Despite that Phoebe stepped down on her own, they feel like his being at that brand somehow erases what Phoebe Philo stood for — an idiosyncratic, directional, some might even say "quirky" approach to luxury. Hedi's style tends to be more about youthful French glamour in the classic rock-n-roll tradition.
Ruth: Mmmmmhmmm. [Slight moan]
Emilia: I just think you should know this bag really belongs with perfect, sharp tailoring and your life might need to change in order to accommodate your new partner's obsession with details that might not be discernible to the untrained eye. This bag never gets up before noon. It loves to party. It might smoke in bed. This is not a bag that goes with Birkenstocks. In fact, it might not understand the inherent humor of a one-act play about itself.
Ruth: I don't care. The heart wants what it wants.
[Grabs bag, runs out stage right.]
Bag [voice trailing from offstage]: Au revoir! Bisou bebe!
    End Scene, Curtain close.
———
*Some events depicted are fictional.
Shop the Story
If you buy something through our links, New York may earn an affiliate commission.