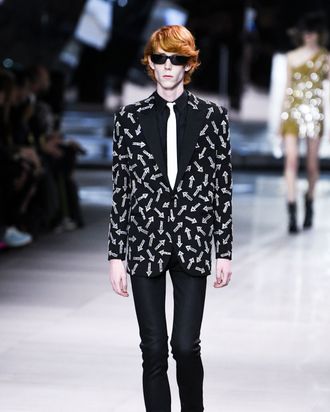 Celine spring 2019.
Photo: Yanshan Zhang/Getty Images
You've been introduced (and reintroduced) to the Celine woman. But do you know the Celine man?
On Monday, the brand announced that it will host its first-ever menswear show during Paris Fashion Week in January. This comes just a few months after Celine's newly appointed creative director, Hedi Slimane, launched Celine's men's division alongside women's during his debut runway show this September.
Slimane's first collection received mixed reviews, with much criticism focusing on the women's offerings and how they fit into current gender politics. The brand's former designer, Phoebe Philo, cultivated an aesthetic beloved by many for its unique ability to give modern women "what they wanted," as it's been described in the months since her departure. Her look was both masculine and feminine, and entirely of the moment. In comparison, Slimane's take on the brand was described by Tim Blanks as being a "gust of toxic masculinity" on Business of Fashion.
Still, negative press clearly hasn't hindered Slimane from offering menswear. (It's never stopped him from doing anything, ever.) Although one could argue that his style has never adhered to a traditionally masculine aesthetic, anyway. Perhaps this show in January will help clarify some things.
Of course, the news of Celine's menswear show isn't coming out of left field. Givenchy has also decided to join the men's fashion calendar in Paris this season. And Celine has plans to launch couture as well in the near future. In the meantime, though, we'll have to prepare ourselves for the full-fledged introduction of the Celine man. One thing's for sure: His pants will be tight.