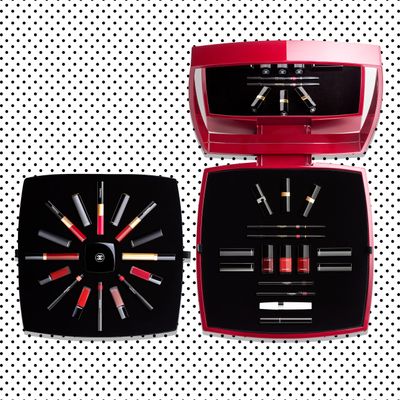 The Chanel Le Rouge Compact.
Photo: Courtesy of Chanel
Remember sleepovers of the '90s, when there was a certain pride in snapping open your Caboodle and flaunting its contents to your fellow sleepover-goers? Chanel has capitalized on this feeling, but instead of filling a molded plastic container with butterfly clips, they've created a massive Instagram-ready compact filled with an exclusive selection of their beauty products.
The Le Rouge Compact will be available exclusively at the Le Rouge PopUp in New York City from December 7–23. It's a collector's edition makeup case with a large mirror plus two trays that contain a variety of lip, eye, and nail products. If a $1,500 collector's edition makeup case that is only available in one location for two weeks doesn't sound exclusive enough for you, there's more: The case will be only be available for purchase during one of five product drops during that time frame. There will also be exclusive events at the Le Rouge pop-up including makeup and portrait sessions with Robin Black of Beauty Is Boring, manicures with Madeline Poole and more (you can sign up via the link here).
The first drop will occur on Friday, December 7, and there will be 50 compacts available for purchase. For more information on when other drops will occur, stay tuned to Chanel's social-media channels. For more information on a possible renaissance of the Caboodle, please consult a game of M.A.S.H. And someone alert John Mayer, please.
Chanel Le Rouge, December 7–23, 2018 from 11 a.m. to 7 p.m. at N°5 East 57th Street.