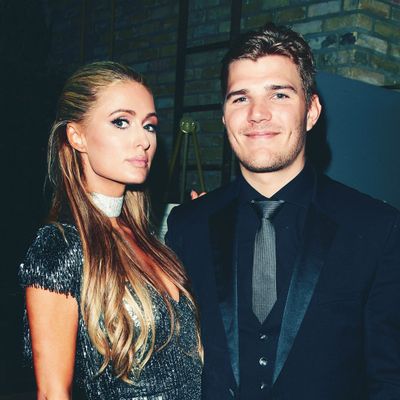 Paris Hilton and ex-fiancé Chris Zylka.
Photo: George Pimentel/Getty Images
The three weddings that Paris Hilton planned on having with actor Chris Zylka are no longer happening. In the long-held tradition of celebrities calling off their engagements, Hilton reportedly broke up with her fiancé, with a source saying she is busy "traveling the world for her skin care and perfume." But what will become of that colossal diamond ring?
According to TMZ, Hilton still has the 20-karat ring, which is valued at $2 million and took four months to make. While Zylka hasn't explicitly asked for it back, sources say he wants it — and will make the "hard ask if Paris doesn't get the hint."
Hilton hasn't exactly taken the best care of the ring. In a perhaps impressive feat, she managed to lose it at a Miami rave back in March, only months after he proposed to her on a ski slope in Aspen. The ring was supposedly "just so heavy and big" that it "literally flew" off her finger and into a nearby ice bucket. She made sure to thank God above when it was miraculously recovered:
Let's see how long Paris can hold on to the ring this time around. Though maybe her career as professional woman DJ will be easier without the massive ring weighing her down.