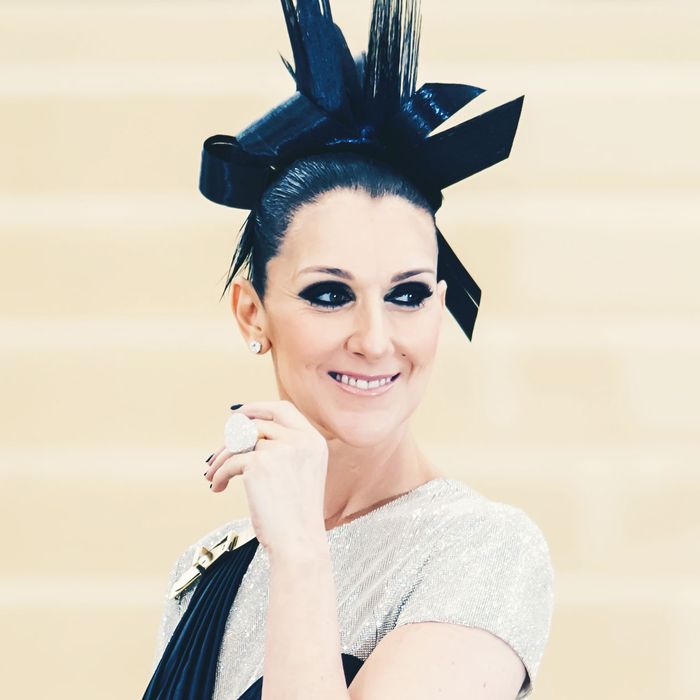 Céline Dion.
Photo: Gilbert Carrasquillo/GC Images
The years 1999–2016 will henceforth be known as the Fallow Years of Céline Dion. A time when the singer was between her Titanic-fueled fame and her reentrance into the public eye as a gosh-darn style icon. Now that we are witnessing the Céline Dionaissance, we know that it is impossible to predict what she will do next. Which brings us to four hours ago, when Céline released a cryptic ten-second teaser film on her Twitter.
It opens with Céline being dramatically hurled to the ground by a police officer and handcuffed. Amid the struggle, she tells the camera, "It's okay, it's okay, I'm Céline Dion." Then the word "Célinununu" pops on the screen, followed by a URL to Celinununu.com.
What is celinununu.com? It's not a thriller starring Céline and Idris Elba. It is a gender-neutral kids' clothing line. Which is still pretty cool.
The collection includes baggy pants with the alphabet on them, for when you need to practice your letters but also mourn the loss of Hypekids. In addition to leather jackets for children, the site also has little nuggets of parenting wisdom peppered throughout. The first thing you read is, "Celinununu unites two forces by one voice: Fashion has the power to shape people's minds. Inspire your children to be free and find their own individuality through clothes." Further down is a Jenny Holzer quote, "Raise boys and girls the same way."
Dion has three boys, and her two 8-year-old sons are probably ready to be decked out in their mom's clothes. Is it still embarrassing if your mom is Céline Dion?