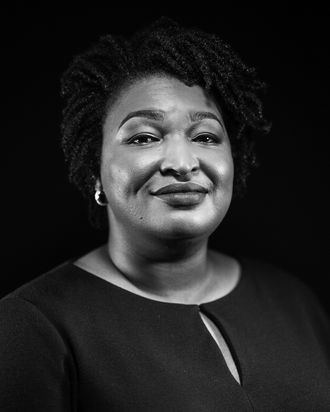 Stacey Abrams.
Photo: Benjamin Lowy/Getty Images
In one of the country's closest-watched and most contested races, on Tuesday, Democrat Stacey Abrams and Republican Brian Kemp will go head-to-head in their bid to become the next governor of Georgia. If Abrams clinches more than 50 percent of the vote today, she plans to support the expansion of Medicaid, listen to the needs of underrepresented and discounted communities, and fight for criminal-justice reform as the first black woman governor in U.S. history. If Kemp is elected, the Trump-endorsed secretary of State will bring his "politically incorrect" brand of conservatism to a seat that Republicans have held for the past 15 years.
Abrams's campaign strategy has centered on growing and mobilizing the Democratic base — especially those who are young and non-white — rather than winning over moderate Republicans and Independents. Still, the Democratic candidate has gained the support of a few conservative women, who are speaking up on social media about their intent to vote for Abrams. While some have condemned Kemp's close alliance with Trump, and others have pointed to his alarming record of racist voter suppression as the reason behind their decision to vote for people over party. Per a recent NBC News/Marist poll, Abrams currently has 55 percent of the women's vote to Kemp's 41 percent — not an insignificant gap. (Kemp has more support from white women with a college degree, though — to Abrams's 47 percent, he has 51 percent. Black women overwhelmingly support Abrams.)
To better understand why some conservative women are throwing their support behind Abrams, the Cut spoke to three women who usually vote Republican about what they don't like about Kemp, which of Abrams's stances they support, and how they really feel about casting a vote for the Democratic candidate.
"Stacey's the best of the worst."
I'm a moderate Republican, and I believe in most of Republicans' values. I'm fiscally conservative and believe government wastes our tax dollars, and most of my family is military. However, I am pro-choice. I also believe in separation of church and state.
Right now, I feel like my party is forcing me out. I have been angry. I'm one of the 63,000 women who marched in Atlanta: Republican Women Against Trump, my sign read. He doesn't embody anything that I stand for. Some of the stuff that I hear coming out of his mouth deters me from voting Republican.
I have never donated in my entire life to the Democratic party, but I donated to Stacey Abrams, even though I didn't vote for her in the primaries — I did a write-in. Stacey does stand for a few things that I agree with. I have multiple sclerosis, so I'm one of those people with a preexisting condition; like Stacey, I believe that in being the freest and richest nation in the world, everyone should have health coverage. One of my meds is $7,100 a month — and that's just one. So, I liked that Stacey said that she wanted to cover everybody.
The main reason I'm voting for her, though, is that I don't like Kemp. The moment that turned me dead-set against him is when I saw the commercial where he pointed a gun toward a young man and basically said, "You better think like I think." I believe in the right to bear arms, and I will own as many guns as I want to own because that's my right, but when I saw that, I was done. When Kemp said he was going to vote with Trump, that also helped me make my decision, because I don't like Trump. I know this sounds bad, but Stacey's the best of the worst.
Also, look at the direction Georgia's going in. Kemp, who's the secretary of State, is disenfranchising us. How do you have 53,000 people, 70 percent who are black, with voters' registrations on hold, all because a comma wasn't typed in or an extra space was there? I'm a minority, and there are so many black people here who have been disenfranchised. This is the new Jim Crow in the South. —Acola
"I look forward to seeing a woman of color attack Georgia's problems."
I have only ever voted for Republican candidates in both general and local elections, though I tend to vote primarily in the general election. Due to occasional relocation, I have often not felt as knowledgeable about local candidates as I would like. I also feel a bit more apathetic about midterm and local elections typically. I find Kemp's advertisements, voter controversy, and overall attitude to be distasteful. If he were a more moderate Republican with a toned-down message, perhaps I would vote for him. I didn't vote for President Trump because I dislike his rhetoric, and I don't want a governor that mirrors the president's ideology and talking points. The harsh immigration policies and caustic tone of the Republican party in general has pushed me away.
I've been very impressed with the way Abrams has handled herself. Her interview on The View was impressive. While I've lived all over the country since adulthood, I've spent at least 30 of my 42 two years in the deep South, and I'm very aware of the injustices minorities have faced — and continue to face — in Georgia. It's time they were righted, and a white man is not the one to do it. I am excited to see a woman of color as governor, and would be sorry to see Kemp win the election.
In regards to Abrams's platform, I agree with her stance on gun control, and I am also interested in her plan to expand Medicaid and protect rural hospitals from closing. I live in rural Georgia and would like to see better health-care services in my area.
However, I don't share her view on abortion. I am pro-life, but that doesn't mean the Republicans or President Trump fully represent my views either. I believe being pro-life means valuing all life — children before birth, their mothers in crisis, immigrants, refugees, those with disabilities, minorities, etc. Even though I am uncomfortable with terminating a pregnancy, and believe the most loving way to support women in crisis is to provide adoption or assistance, I don't think my views are represented well by either party.
Overall, I am cautiously optimistic about voting. I will be voting for a mixture of Republican and Democrat candidates on Tuesday. Even though I don't agree with all of Abrams's positions, I think she's smart and practical. I look forward to seeing a woman of color attack Georgia's problems from a unique angle. —Rebecca, 42
"What I'm feeling now is scared."
I've voted in nearly every election since I was 18 — I only missed one because I was sick. I'm an Independent but I always voted Republican, save one time when I voted for Zell Miller. I'm open-minded enough to be willing to vote for someone who has similar conservative views as my own, even if they aren't Republican.
I already voted, and I voted for Stacey Abrams. The main reason I am supporting her is that she isn't a Trumpite — plain and simple. Aside from his other absurd commercials, Kemp lost my vote the moment he started crowing about how he was the real Trump supporter over Lieutenant Governor Casey Cagle.
To be honest, there are significant differences between my views and those of Abrams. However, I was — and continue to be — appalled at the segregation of illegal immigrant children from their families and the rhetoric of bigotry, anger, and misogyny coming from the White House, the Republican Party, many of my Christian brothers and sisters, and even some from friends and family. I do like Abrams's ideas on creating a school system where all kids, regardless of what area they live in, get the exact same education. I look forward to see just how she's going to make that a reality. However, I am anti-abortion and believe in strong immigration laws — but not shredding them and using histrionics and lies to try to force inhuman ones in return.
Honestly, what I'm feeling now is scared. It's going to be bad enough with Trump in control for two more years, even with a Democratic controlled House and/or Senate, but the idea of his cronies and followers remaining in control with him scares me. Especially the ones I used to look up to who have morphed into political monsters under Trump's leadership. I have family members, people I love and cherish and who I will go all mama-bear over, whose lives could be severely and horribly impacted by some of the changes Trump wants to institute. —Kari, 60