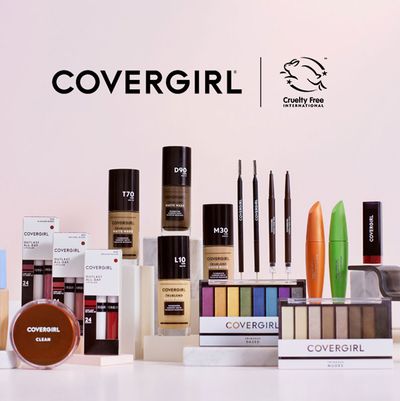 Photo: Courtesy of Covergirl
In September, California passed a bill that would ban animal testing on any cosmetics sold in the state by January 1, 2020. The bill was a huge step forward for the cruelty-free movement, and now they can celebrate another big win: CoverGirl was recently certified as cruelty free, and can now display the "Leaping Bunny" logo on their products.
Like any certification process, there are a list of standards to implement and maintain. Leaping Bunny's "Corporate Standard of Compassion for Animals", referred to simply as "The Standard", lists six key components. Of course, they (1) cannot test any of their own products on animals. But they also (2) cannot purchase any ingredients from second parties that use animal testing. They must (3) implement a supplier monitor system to ensure that this doesn't happen. They also (4) cannot allow products to be tested on animals for distribution in foreign markets. They (5) have to apply and maintain a copy of their application and (6) have to reapply for certification annually.
So, how soon will all of your favorite CoverGirl products actually be 100 percent cruelty-free? The standards are straightforward, but implementation is a little trickier (and lengthier). The company will use a "Fixed Cut-Off Date" for all product and ingredients, described on the Leaping Bunny website as:
A date after which a Company, its Third Party Manufacturers, and/or Suppliers must not have conducted or commissioned Animal Testing for the Company's own-label products and/or Ingredients supplied for use in the Company's Cosmetic and/or Household Products.
This basically means that even after the cut-off date, you could still be purchasing products that have been tested on animals, or contain animal-tested ingredients. For example: In the California bill, the cut-off date is January 1, 2020. That doesn't mean that every cosmetic sold in California after that point will suddenly be cruelty free, it means that products and ingredients that have been tested on animals prior to that date will still be able to be sold in the state.
Legal nuance aside, it's a sign of progress that a company as big as CoverGirl is committing to being cruelty free. It's the largest one sales-wise to achieve Leaping Bunny certification. It's one small step for the cosmetics industry, one giant leap for bunnies worldwide.