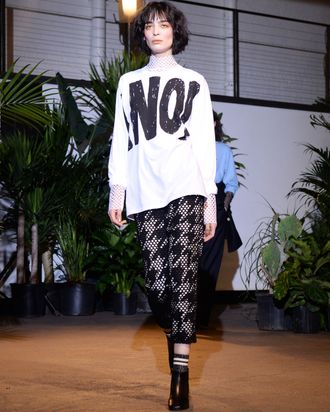 Photo: Andrew Toth/Getty Images
On Thursday afternoon, Creatures of Comfort — a fashion mecca for stylish ugly pants and whimsical home furnishings — sent out an email to friends with the subject: "Farewell."
After 14 years in business, the brand will be closing its doors on December 17, according to the email and a post on the brand's Instagram. Its online store will cease operations on December 10.
Creatures of Comfort was founded by Jade Lai in Los Angeles in 2005. It curated those "hard-to-find labels with standout personalities," as the brand describes — names like Rachel Comey back when the designer was described as "up-and-coming." Customers included everyone from Michelle Williams to Kim Gordon.
Lai opened the Creatures of Comfort Flagship store on Mulberry Street in New York City in 2010. She launched the brand's own eponymous label shortly thereafter with an ethos of "simple and stylish, ease over fuss." Along with Rachel Comey, it became Soho's premiere high-waist flare pants destination, as well as a pioneer of, well, the urban pioneer girl look. It wasn't for everyone, but those who loved it will really miss it.
"Creating our own collection and sharing our home with so many talented artists and designers over the years has been an inspiring experience for all of us," said the email/Instagram post. "Thank you for all your support and partnership throughout our time together."
The Cut has reached out to Creatures of Comfort for comment and we will update this post when we know more. In the meantime, everything in the store and online is 50-percent off. Sadly, all sales are final.