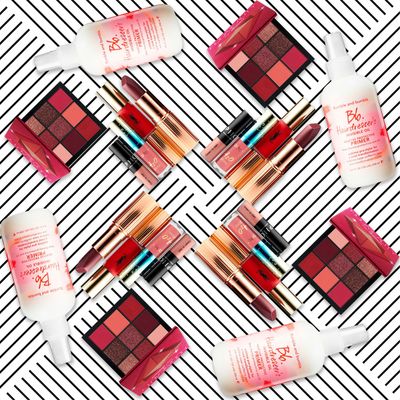 Photo: Courtesy of Sephora
Another day post-Thanksgiving, another post-Thanksgiving sale. This time, we're celebrating Cyber Monday over at Sephora, where some beauty gems in the hair, skin care, and makeup departments are not only up to 50 percent off, but completely purchasable from the comfort of wherever your phone, laptop, or computer happen to be. If you slept on Black Friday, now is your chance to claim some discounted cult-favorites as your own without interacting with real-life humans, standing in a line, or carrying around a little black-and-white striped bag with tissue paper in it. Here, seven products to highly consider dropping into your cart before they completely sell out.
This eye-shadow kit is light on everything — the wallet, the size, the weight — but color impact. Nine super-soft shadows are jammed into this Post-It sized palette that is smaller and lighter than a credit card.
Bite's Amuse Bouche Lipsticks are creamy and smooth and very easy to apply. This gift set offers four mini versions of the lipsticks to try: Sake (dusty mauve), Nori (deep-brown red), Tannin (poppy red), Date (light brown). It's the perfect set to keep in your desk at work to freshen up before holiday parties.
This pretty Korean cleansing water is as calming and soothing as other micellars on the market, but don't let the whole "water" label fool you. This particular blend is surprisingly good at removing clingy makeup — even the kind that considers itself waterproof — without irritating skin.
Every hair type needs some extra TLC when the temperature drops and even more so if heat-styling is involved. Do yours a solid and snag this softening primer and heat protectant before all the hot tools make their rounds once holiday party season is in full swing.
Sephora knows that at any time in your bag, you can open it to find five lip products that are roughly the same. This kit of best-selling lip products in every formulation will help you broaden your horizons and find a new favorite (or five).
Aanastasia Beverly HIlls is known for their quality highlighters and this quad of blendable, high-shine, shades lives up to the hype. All four shimmers are flattering on every skin tone and can be swiped almost everywhere: Eyes, face, lips, body. The world is your (gleaming) oyster.
If you buy something through our links, New York may earn an affiliate commission.