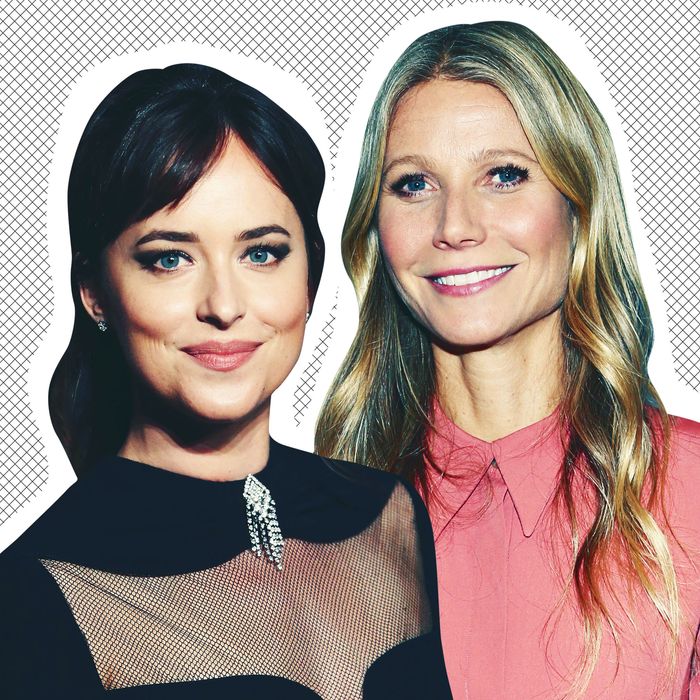 Gwyneth Paltrow and Chris Martin have gotten plenty of flack over the years for labeling their divorce a "conscious uncoupling" (some of it from the Cut, which Paltrow has never heard of). But you've gotta give 'em credit: the Patron Saints of amicable breakups are still going strong.
In their latest uncoupling milestone, Chris Martin's new girlfriend Dakota Johnson reportedly spent Thanksgiving with Gwyneth, her new husband Brad Falchuck, and kids Apple and Moses. According to E!, everyone had a grand old time.
"Gwyneth thinks [Dakota] is lovely. She gets on very well with her and is happy for Chris," a source told E!. "They've spent a good amount of time together and have a very nice friendship."
The source continued:
"Gwyneth and Chris have the modern family thing down pat and continue to vacation and spend family time together. Especially on holidays, Gwyneth wants nothing more than to be one big happy family and for her kids to be able to celebrate with both of their parents."
In a Hollywood landscape full of messy breakups, Paltrow and Martin's ability to share a pleasant holiday meal with their new beaus should be a beacon of inspiration to us all. Next step: monogrammed underwear for the whole big happy blended family?