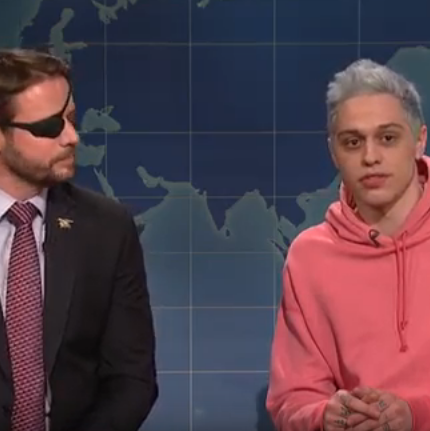 Pete Davidson.
Photo: Screenshot via Saturday Night Live.
Pete Davidson went back to Weekend Update to apologize for making fun of Dan Crenshaw's eyepatch. "In what I'm sure was a huge shock for people who know me, I made a poor choice last week … I made a joke about Lt. Commander Dan Crenshaw and on behalf of the show and myself I apologize." Then in the already cameo-heavy episode, Dan the Cran himself came on to give Pete a lesson in civility.
Just kidding, Crenshaw got some appearance-based burns in to make things equal between the now best buds. Crenshaw said Davidson looked like "if the meth from Breaking Bad was a person," as well as "a Troll doll with a tapeworm," and "Martin Short in The Santa Claus 3." Now that SNL has apologized, Crenshaw can go back to trying to ban abortions after 12 weeks.