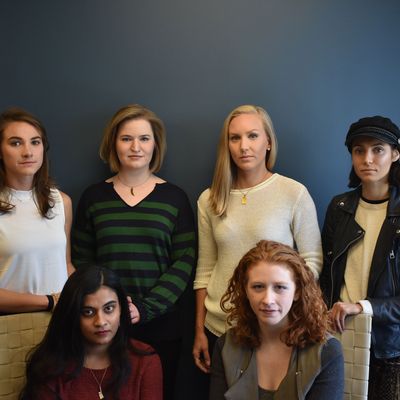 Clockwise from back left corner: Andrea Courtney, Annemarie Brown, Kristina Rapuano, Marissa Evans, Sasha Brietzke, Vassiki Chauhan
Photo: Kathleen Brown
In 2017, Vassiki Chauhan was in her third year of graduate school at Dartmouth, working as a teaching assistant for Paul Whalen, a tenured professor who had worked in the university's Department of Psychology and Brain Sciences. One night in April, she says, Whalen pressured her into grabbing a drink, which turned into several drinks — and then into going back to his home. Once there, she claims he "attempted to initiate sexual contact," and she forcefully rejected his advances. When she tried to escape the second floor of his house, she says he blocked her from leaving. Once she realized what would inevitably transpire, she says she told him to use protection. After laughing, Whalen allegedly said, "That is one thing I am not going to do."
Twenty days earlier, around eight female students had contacted the university's Title IX office about Whalen, as well as two other tenured professors in his department: Todd Heatherton and William Kelley. Their overarching concern, according to a class-action lawsuit filed by Chauhan and six other current and former graduate students on Thursday, was these three men had turned the university's behavioral science department into a "21st century Animal House," creating a hostile environment for female students by, among other things, hosting raucous "hot-tub parties," drinking with underage prospective students, and repeated instances of sexual assault.
The suit, which seeks $70 million in damages, claims that Whalen, Heatherton, and Kelley formed what amounted to a private "predators club," using their power to pressure female students participating in a bacchanalian party culture rife with drinking and inappropriate sexual overtures. Their alleged disturbing behavior extends back over 15 years — and the complainants say Dartmouth administrators looked the other way the entire time.
In a statement to the Cut, a spokesperson for Dartmouth said they "respectfully, but strongly, disagree with the characterizations of Dartmouth's actions in the complaint and will respond through our own court filings."
The lawsuit paints a startling picture: It states that Heatherton, the former chair of the department and so-called "founder" of the predatory group, was "instrumental" in helping both Kelley and Whalen obtain tenure, and enabled the predatory behavior, which including sexually assaulting women after getting them drunk, sending explicit texts to students, and threatening retaliation against those who would deny their inappropriate requests. Per the suit, Kelly and Whalen encouraged their students to drink to excess and sleep over at their houses, and rewarded the women who partook with "academic attention, while neglecting those who didn't"; they reportedly also competed over who had "the hottest lab." Kelley, in particular, invited undergraduate students to use real cocaine during class during a demonstration on addiction, the lawsuit says, and sent photos of his penis and sex toys to two women.
For at least 16 years, the school was aware of allegations against the three professors. As early as 2002, the suit says, three people filed two separate complaints with the school, alleging that Heartherton had groped their breasts or their butts; in 2005, a complaint related to sexual harassment and discrimination was filed against Kelley and Heatherton. Per the lawsuit, Associate Dean Jay Hull was "specifically aware of Kelley and Whalen's 'tradition' of taking prospective female students out drinking, purportedly to observe how the students 'handled themselves' while drunk, but did nothing to investigate or stop it." Other administrators, the lawsuit claims, knew that Heatherton, Kelley, and Whalen routinely "injected themselves into the sexual lives of their female students," and encouraged them to "just screw" other members of the lab.
"What's infuriating is that there were known complaints in the past," Sasha Brietzke, one of the plaintiffs, told the Cut. Particularly egregious, she says, is the fact that Dartmouth gave Heatherton an endowed chair in early 2002, soon after junior faculty member Jennifer Groh filed a complaint at the college on behalf of a female student who told her that Heatherton had touched her breasts without her consent. Per New Hampshire Public Radio, Groh received no follow-up or notification about an investigation. In 2004, Heatherton was promoted to chair of the department.
"He amassed more power, which led to him getting more grant money, which led to him sheltering serial predators, like Whalen and Kelley," she said. "Meanwhile, he retaliated against female faculty who had come forward with complaints, such that they were driven out of the institution. So this is part of a systemic culture of not handling reports properly as they come in."
By the time Whalen allegedly sexually assaulted Chauhan, a few people were already participating in a Title IX investigation into the "predators' club." Of those women, seven graduate students — all of them highly accomplished scientists — have filed the lawsuit with Sanford Heisler Sharp, LLP:  Kristina Rapuano, Andrea Courtney, Annemarie Brown, Marissa Evans, Vassiki Chauhan, Sasha Brietzke, and a woman by the name Jane Doe.
Rapuano, an award-winning Ph.D. student and teaching assistant who enrolled in graduate studies at Dartmouth College in 2012, first approached the administration about Whalen and Kelley on January 13, 2017. She claims the men had harassed her for years with impunity: On approximately March 14, 2014, she says Whalen "repeatedly tried to put his hands into her pants over her objections and demands that he stop touching her" while she was helping him grade final exams in his office, per the suit. She also worked in Kelley's lab, and she says he raped her twice in the early hours of March 28, 2015, "when he knew she was too incapacitated to consent," per the lawsuit. Afterward, she claims, he sent her pictures of sex toys, demanded sexually explicit photos, and threatened to "deprive her of academic guidance and refuse to schedule meetings to discuss her research."
"I thought my situation was a relatively isolated case that I just needed to get through," she told the Cut. "It wasn't until I learned about Sasha [Brietzke] and other people's experiences that I realized that this issue was much more pervasive. I felt like if I didn't come forward, this pattern was going to continue."
In March of 2017, Brietzke, a graduate student and researcher who began working in Kelley's lab in the fall of 2016, accused Heatherton of groping her butt, inappropriately touching her, and asking her what she was "going to be doing later that night" on two separate occasions. Because the department is "very close-knit," she says she recalls telling her close friends — some of who would go on to file the Title IX lawsuit with her — that she "was very upset."
Between the end of June and mid July, while the Title IX investigation was still ongoing, and as Dartmouth began what the Times calls "the seldom-used process required to fire tenured professors, Whalen and Kelly resigned, and Heatherton retired. (Dartmouth also barred them from campus events and property.) For half a year, Dartmouth didn't publicly disclose the investigation, and only did so in October, after media caught wind of it. Then, on October 31, the New Hampshire attorney general Gordon MacDonald opened a criminal investigation into the sexual-misconduct allegations.
Only Heatherton has responded to the lawsuit, telling the New York Times through his lawyer that he "categorically denies playing any role in creating a toxic environment at Dartmouth College." (Upon his resignation in June 2017, he said in a statement that he "acted unprofessionally in public at conferences while intoxicated," and "[offered] a humble and sincere apology to anyone affected by my actions.") The Times was unable to reach Whalen and Kelley for comment; since resigning on June 26 and July 17 respectively, neither appear to have spoken publicly.
When asked about the claims made in the lawsuit, a Dartmouth spokesperson told the Cut that "sexual misconduct and harassment have no place at Dartmouth."
"We applaud the courage displayed by members of our community within the Department of Psychological and Brain Sciences (PBS) who brought the misconduct allegations to Dartmouth's attention last year," the statement continues, also noting that the university "unprecedented steps toward revoking [Whalen, Kelley and Heatherton's] tenure and terminating their employment."
For the plaintiffs, though, that's not enough: They want to see a broader, cultural change take place. In filing their suit, they hope to not only compel Dartmouth to implement policies that would combat sexual misconduct, but also to shine a light on the discrimination against women and minorities that pervades academic sciences.
"This lawsuit is an opportunity for Dartmouth because now, they can bring in trained experts who can help change the culture, and therefore the demographics in how science," Chauhan said. "Yeah, we're early in our career, but we are legitimate scientists, and we have repercussions to think about. We are not nameless or voiceless individuals."