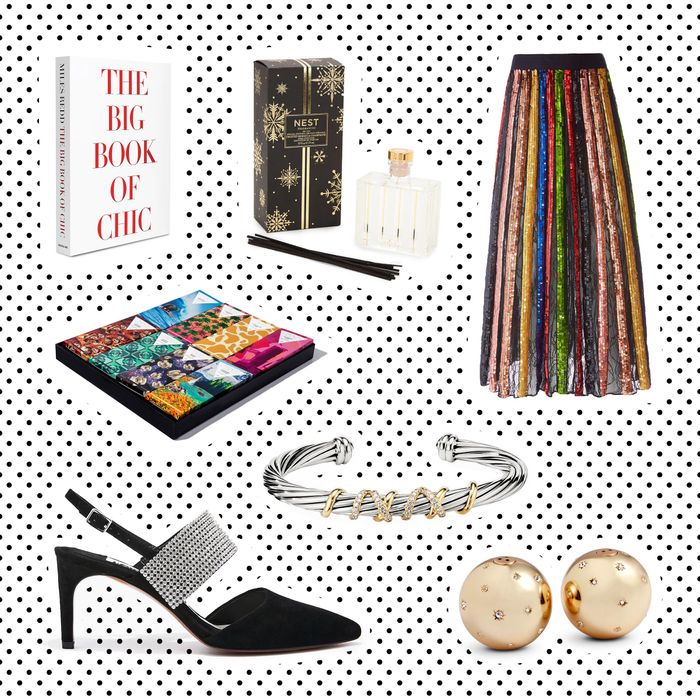 Photo: Courtesy of the retailers
We're equal opportunists when it comes to curating and recommending the best gifts — from inexpensive-yet-nice ones for Mom to high-performing gear for travelers — but we especially light up at the chance to handpick luxury items. Of course, just the idea of a splurge is enough to excite some, which makes discerning the items that are worth it such a thrill. Below, we've rounded up a few of our holiday favorites that dazzle in the literal sense. Each one sparkles, shines, or excites the eyes, nose, or taste buds: a piece of jewelry from David Yurman at Saks Fifth Avenue, a champagne-inspired home fragrance, a glittering sequin skirt, and more.
Formal servingware may seem frivolous, but this cake stand will earn its keep: The ornate base feels fancy, but it's perfectly practical for serving a casual cheese spread.
This bracelet — with its diamond-studded gold strands — celebrates Helen of Troy, who's regarded as one of the most beautiful and graceful women in antiquity. Give it to someone who similarly inspires your own adoration.
If your gifting goal is inducing oohs and ahhs, then there's no playing it safe. A skirt as fun as this one belongs on the life of the party — and you should be the one to give it to her.
A sweet spot for good gifts is where "thing she'll use a lot" overlaps with "wish-list version she won't buy herself." This platinum patterned bag is something the recipient will wear every time she dresses up, and is just designer-y enough to treasure.
Sometimes little luxuries can be most impactful. Nest is known for its quality fragrance products, and this "frosted berries and champagne" diffuser boasts extra-pretty packaging, too. (As does this "liquidless" one.)
This gold pendant necklace — a standout from David Yurman's Tides Collection — is the kind of outfit-elevating piece the wearer will turn to for years to come. We imagine it delighting a stylish mom or sophisticated sister-in-law.
With a title as audacious as The Big Book of Chic, Assouline's tome from international interior designer Miles Redd makes for a glamorous gift. Style-lovers will get lost in the fantastical, full-bleed décor imagery; plus, it serves as a status-y coffee-table statement.
As far as stove-top coffee makers go, this is one of the most attractive ones we've seen. Make their daily brew feel ceremonial with this brilliant stainless-steel set.
Compartés chocolate is a gift-guide mainstay, but the introduction of inventive new flavors (and the always artful wrapper designs) keeps the gesture fresh. This bar-of-the-month version is sure to impress.
This bracelet checks every box with its mix of silver, gold, diamonds, and pearls. And it's versatile enough to either pull out for nicer events, or to wear everyday, depending on the person's style.
These mesmerizing celestial spheres are actually gilded salt-and-pepper shakers. Know someone who's a magnet for shiny things? Hook, line, and sinker.
For logical reasons, shoes aren't the most popular gift category, but these are a savvy option for someone with a special occasion coming up: The black silhouette is classically fashionable, while the crystal embellishment gives a "wow" factor.
This is paid content produced for an advertiser by New York Stories. The editorial staff of The Cut did not play a role in its creation.