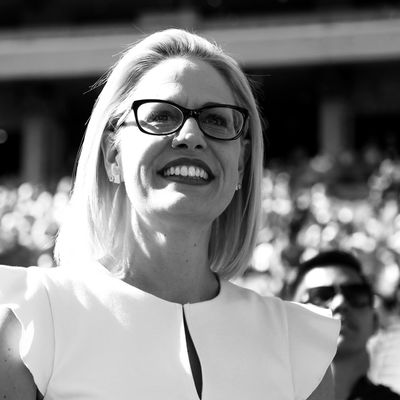 Kyrsten Sinema.
Photo: Christian Petersen/Getty Images
There's still good news coming from the 2018 midterm elections. Representative Kyrsten Sinema won a historic victory in Arizona on Monday night, becoming the first woman senator ever in the state. According to the New York Times, she is also first Democratic senator elected in an open race in Arizona since 1976, as well as the first openly bisexual senator in the country. Sinema beat Republican congresswoman Martha McSally, and is taking Jeff Flake's senate seat.
Sinema, 42, is a former social worker and has a law degree, a masters degree, and a Ph.D. She was elected to Congress at the age of 36. She has spoken about how she was bullied for her sexuality as a child, and how she believes that it makes her a stronger leader. She also experienced poverty and homelessness during her childhood. In the early 2000s, she was an anti-war advocate, and was the co-founder of a group that called the U.S. invasion of Iraq "U.S. terror in Iraq and the Middle East."
While she was more left-leaning in her early political career, her recent positions have been more centrist; Sinema has been criticized in the past for siding with Trump and the Republicans on some policies. Her statement following her win followed that same approach, thanking voters, and promising that she would work to "find common ground."
Despite a moment in the campaign when McSally accused Simena of treason for her anti-war advocacy, she conceded gracefully on Monday night. "I wish her success," she wrote. "I'm grateful to all those who supported me in this journey. I'm inspired by Arizonans' spirit and our state's best days are ahead of us."
On November 9, President Trump tweeted that there was voter fraud in Arizona, alleging that there was electoral corruption and calling for a "new Election." The tweet was accompanied by others where the president alleged voter fraud in other major races in Florida for the Senate and governor's seat. Arizona's Republican secretary of State, Michele Reagan, did not endorse the president's posts. In a statement, she said that "everybody is working diligently to tabulate all of the election results in a manner that Arizonans can be proud of and, most importantly, trust the results."
Sinema's win gives Democrats 47 seats, compared to the Republicans' 51 seats. A Senate race recount in Florida between Rick Scott and Bill Nelson, and a runoff election in Mississippi between Cindy Hyde-Smith and Mike Espy will determine which party will claim the final two seats.