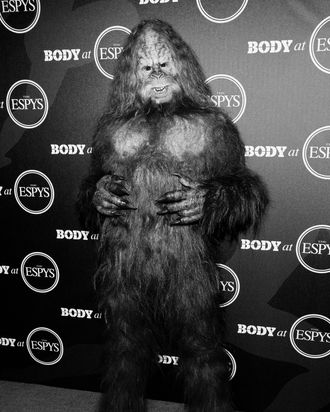 Bigfoot?
Photo: Michael Kovac/Getty Images for ESPN
Republican Denver Riggleman — a man who once wrote a book titled Mating Habits of Bigfoot and Why Women Want Him — just beat out Democratic challenger Leslie Cockburn (Olivia Wilde's mom) for the U.S. House of Representatives in Virginia's Fifth Congressional District seat. The district has historically voted Republican. In what has to be the strangest race in the midterms, Riggelman beat Cockburn by seven points, according to the New York Times.
We learned about Riggleman and his Bigfoot book in July, when Cockburn tweeted out a screenshot from Riggleman's Instagram. The post showed a buff, naked drawing of Bigfoot, with a very large censor bar covering Bigfoot's privates. "Don't erase the censor box…" Riggleman had captioned the post.
Cockburn's tweet contained two damaging pieces of information about Riggleman. She wrote that he "was caught on camera campaigning with a white supremacist. Now he has been exposed as a devotee of Bigfoot erotica."
Riggleman defended his post. He pointed out that the drawing was the cover for his upcoming book, and was "meant to be funny." He claimed the book was not very sexual at all, and was about "Bigfoot believers."
Unfortunately, his predilection for Bigfoot is not the worst thing about Riggleman. The Trump-endorsed businessman really was out campaigning with a white supremacist in June. He was videotaped with Isaac Smith, the co-founder of Unity and Security for America, which the Southern Poverty Law Center categorizes as a white nationalist group.