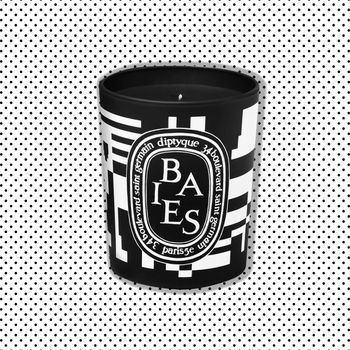 A black candle for Black Friday.
Photo: Courtesy of Diptyque
If there's one thing that Americans seem to relish more than a fantastic holiday meal, it's snagging an under-the-radar holiday deal. Thanksgiving dinners have become carbo-loading for Black Friday shopping. If you're looking for something beyond deals on flat-screen TVs, Parisian fancy-gift purveyor Diptyque is getting in on the action this year. They will be releasing a Black Friday version of their Baies candle.
Diptyque's best-selling rose and blackcurrant scented Baies candle is getting a limited-edition makeover for Black Friday. The candle normally comes in a clear glass jar, but this exclusive version will have a black-and-white geometric pattern, inspired by one of the brand's archived prints. The wax of the candle itself is a matte black, because why not be a little literal.
The candle will be available beginning November 23 through the 26, or until they run out. Given how popular the original Baies is, it's highly likely they will sell out. If you miss that window, don't worry: Diptyque has an entire holiday collection waiting for you.
If you buy something through our links, New York may earn an affiliate commission.