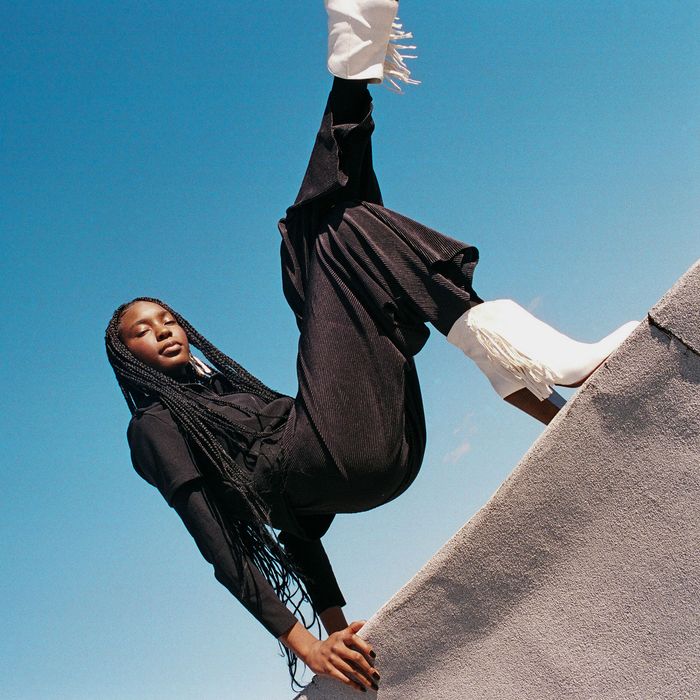 Everyone has their own idea of what New York City looks like — even if they don't live here. I'm reminded of this especially around the holidays, when family and friends visit from elsewhere, and offer their unfiltered comments on the place I call home. A new campaign from Dolce Vita titled a "New York Gaze," explores the same idea.
When Dolce Vita opened its store on Ludlow Street in 2001, just a few doors down from the original Max Fish, it was one of the first boutiques to arrive in the wave of gentrification on the Lower East Side. So, in an ode to the neighborhood, the brand commissioned four different female photographers to capture scenes on the street today: Cheryl Dunn, Hannah La Follette Ryan, Emily Soto, and Sabrina Santiago.
Each artist brings a unique perspective to the project. Ryan, for example, is behind the popular @subwayhands Instagram account, which documents the hands of subway riders she sees on her daily commute from Brooklyn to Manhattan. And Soto comes from a more fashion-focused background, having shot multiple magazine covers and faces like Adwoa Aboah, Karlie Kloss, and Zoë Kravitz. Of course, Dolce Vita shoes also had to be in each of the frames, but you wouldn't know it at first glance.
Below, a glimpse at how four different women see the streets. (And shoes.)
Cheryl Dunn
Hannah La Follette Ryan
Emily Soto
Sabrina Santiago