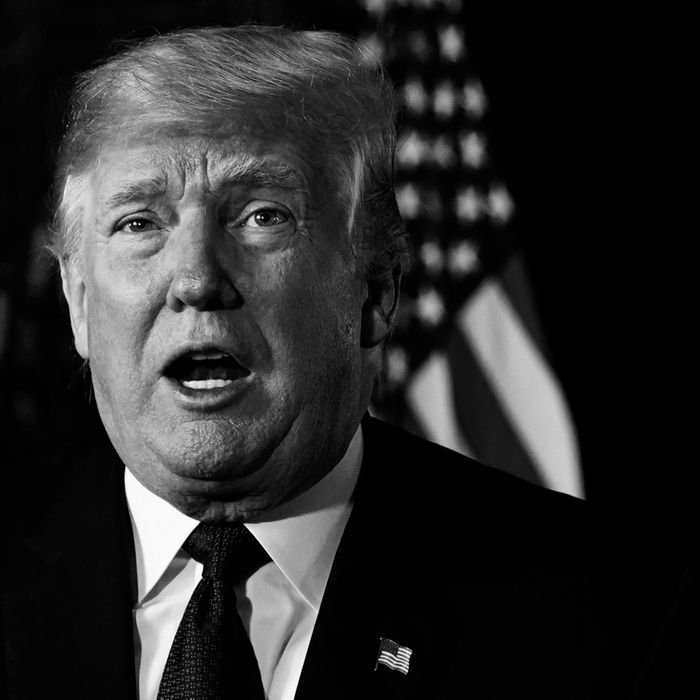 Donald Trump.
Photo: MANDEL NGAN/AFP/Getty Images
In the last midterm campaign rally of the year, President Trump made an appearance in Tupelo, Mississippi, on Monday night. He was there to support a Republican candidate, the Confederate-flag-loving Cindy Hyde-Smith, in the runoff Senate race against Democrat Mike Espy. In the midst of a speech that focused heavily on immigration, Trump decided to change course and instead, talk about his looks — specifically, how people used to compare him to … Elvis Presley, who was born in Tupelo.
"I shouldn't say this, you'll say I'm very conceited because I'm not but other than the blonde hair, when I was growing up they said I looked like Elvis," he said. "Can you believe it? I always considered that a great compliment."
That's definitely a stretch — though it's not the first time Trump has tried to bait the country into complimenting his appearance. There was the time he called the White House and everyone who works there "hot." Or the time he passionately advocated that we start calling people "beautiful" and "handsome" again.
The comparison comes shortly after the Trump posthumously awarded the Presidential Medal of Freedom to Elvis Presley in mid-November. "After redefining music in the '50s and redefining cinema in the '60s, 'The King' — as he was known by everybody — everybody, to this day, they call him 'The King' — revolutionized live performances in the 1970s," Trump said during the Medal of Freedom ceremony. "Crowds were absolutely enraptured by his electric performances."
There's no way to prove who did or did not tell President Trump that he looked like the late rock star Elvis Presley. If someone, somewhere, did actually say that, any resemblance that may have existed is certainly gone now.