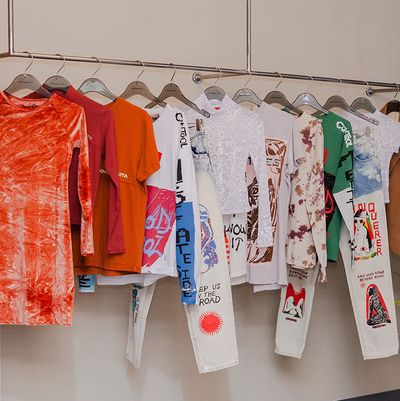 Photo: Courtesy of Eckhaus Latta
To find Eckhaus Latta's new store at 75 East Broadway — the brand's first in New York — you have to know where you're going. The shop is located above the bustling "Chinatown Mall" marketplace and directly underneath the Manhattan bridge, but there's no signage directing you to the nondescript staircase in the back.
For designers Mike Eckhaus and Zoe Latta, though, this area is home. Eckhaus lives just a few blocks away, and the two have had a studio space nearby for the last six years. Their new neighbors upstairs are familiar faces as well, with galleries like Tramp and Michael Werner sharing the (mostly-empty) space, plus vintage boutiques like James Veloria. Shopping here, whether it's for a cropped turtleneck or fruits and vegetables, doesn't have to be complicated. As with most good things in New York, if you know, you know.
This idea of unpretentious exploration combined with a distinct sense of place is, not coincidentally, an apt summation of the Eckhaus Latta ethos. Growing a small fashion brand has never been easy — especially one with a homespun, arsty feel to it like Eckhaus Latta — but the designers have continued to put one foot in front of the other since 2011, taking risks but also knowing when, where, and how to take it slow.
In this spirit, the new Eckaus Latta space is purposefully bare-boned, giving the designers some room to shape it into whatever they want. Coming off of their exhibit at the Whitney Museum this summer, where they questioned the very idea of the "curated" "retail" "experience," they didn't feel like interrogating anything this time around. Why not just sell clothes, and go from there?
"We really wanted to start with a clean slate," said Latta. But that doesn't mean the store isn't inviting. It's intended to be just as much a social space as it is a place to try on jeans and stroke fabrics. In addition to their own label, the designers have also curated a selection from friends, including Susan Cianciolo, Sophie Andes Gascon, Come Tees, and Zizia Botanicals.
The attitude of "try it and see what happens," would make most New Yorkers nervous, especially when there's money involved. But per usual, Eckhaus and Latta genuinely don't seem stressed.
"It's not like we're on Mercer Street, or something," said Eckhaus with a shrug as the subway rumbled overhead.
The new Eckhaus Latta store opens this week, Wednesday through Sunday, 12 p.m. to 7 p.m.