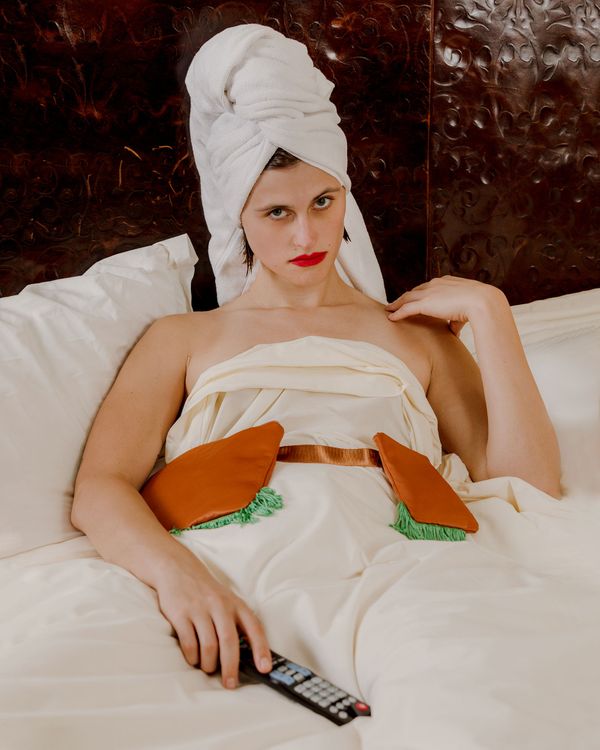 The Travel Kit, great for belting your sheets.
Photo: Thomas McCarty
There is one element of traveling that always seems to take the stress cake: packing. And packing can further be divided into two main worries: (1) What do I pack? and (2) What do I pack it in? If your days of shoving everything into a backpack last minute (no judgment!) are behind you, then maybe you're ready for this fancy new Travel Kit from Eckhaus Latta and HotelTonight.
The collaboration came about when booking app HotelTonight realized how many of their users work in fields that are known for being somewhat spontaneous and unpredictable, for example: almost every job. They wanted to offer HotelTonight clients something stylish, no-fuss, and convenient. Enter Mike Eckhaus and Zoe Latta, who designed a nylon waist bag (a fanny pack) filled with travel essentials. The Travel Kit is part of their spring–summer 2019 collection, but is launching early to coincide with the holiday travel season.
The bag comes complete with a satin eye mask, a Zizia Botanicals trio (a serum, face mist, and one of their wellness tinctures), a Piave natural bristle toothbrush, Elmex toothpaste, and two imported French tea infusions. It costs $275, and when you purchase one you also get a credit to use on HotelTonight for the same amount. So ultimately, it's a great gift for you or anyone who travels frequently, but wants to travel more elegantly.
If you buy something through our links, New York may earn an affiliate commission.