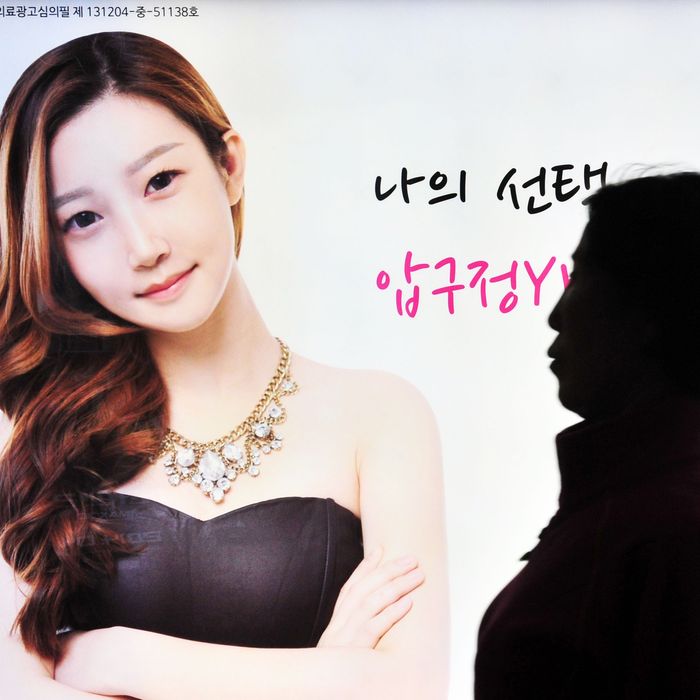 A plastic surgery ad at a subway station in Seoul.
Photo: JUNG YEON-JE/AFP/Getty Images
The K-Beauty lore goes like this: Korean women use ten products morning and night, including two types of cleansers and a serum made with snail slime, to get skin that's free of blemishes, lines, and maybe even pores.
South Korea was happy to export this doctrine to American women increasingly interested in skin care, and over the past five years, K-Beauty staples like oil cleansers and sloughing essences found a place in our bathrooms.
Part of the appeal, too, was that Korean women seemed relish their extensive routines and would never consider forgoing a step or three. In 2013, Charlotte Cho, the curator and co-founder of online K-beauty shop Soko Glam, took Elle through each of the ten steps, adding, "Many cultures may view our nightly regimen as extreme, but for us it's standard procedure."
But recently, Korean women have started seeking freedom from this so-called standard procedure, in ways both big and small. Korean culture has exacting beauty norms: Women are expected to have pale skin, big eyes, and cherry lips, plus body types that may only be achievable through draconian dieting or cosmetic surgery. (The country has the most cosmetic surgeries per capita in the world, with almost one million procedures every year). Today, some Korean women are protesting these specifications as part of a movement called "escape the corset." They're ditching their makeup, long hair, and much of their skin care to strike back at the impossible societal expectations for women.
The proponents of "escape the corset" are throwing out everything except a few skin-care products and some lip balm, and posting their discards — piles of exfoliating gels, mattifying powders, and lipsticks — on social media. In May, a news anchor even made headlines by wearing glasses on the air, a look forbidden for women at work but not for men.
On Instagram they're posting before and after photos showing their transitions from long hair and makeup to short hair and bare faces or tight skirts to baggy pants.
Cha Ji-won, whose YouTube channel features her new simplified routine, told The Guardian that after she cut her hair and got rid of her makeup, "I felt as if I had been born again. There's only so much mental energy a person has each day, and I used to spend so much of it worrying about being 'pretty.'"
"'Escape the corset' is part of a feminist movement that grew out of gender inequality and prominent sexual assaults," says Tracy E. Robey, who blogs about K-Beauty at fanserviced-b. In May of 2016, a 23-year-old woman was murdered in a public restroom near Gangnam station in Seoul by a 34-year-old man she didn't know. He told police he stabbed her because he felt "ignored and belittled" by women his whole life (video footage shows him letting six men pass by unharmed before the woman entered the restroom). A week after the Gangnam station slaying, a young teacher on a remote island in South Korea was gang-raped by three men, two of whom were fathers of her students, and the back-to-back brutalities moved women to demonstrate against how they were treated by society.
In the two and half years since, the feminist surge has taken many forms, including enormous protests this summer over "spycam porn," a phenomenon in which men using spy cameras to record unsuspecting women — taking close-ups of their genitalia while they're sleeping, documenting them in the bathroom, or showcasing them walking on the street. Over and over, police have failed to prosecute these crimes.
"Escape the corset" sprang up this summer on YouTube and Twitter with women posting their smashed makeup and shorn hair to fight back against how women were supposed to look. The Yomhap News Agencey quoted one YouTuber explaining, in a video that showed her with short hair, "I was raised in a patriarchal family and was sexually harassed when I was in high school. It was painful to live in such a misogynistic society."
"There are many women who wake up early in the morning and begin preparing their makeup one or two hours before going out, even though they don't want to," YouTuber Lina Bae wrote in a message that appears with a video of her ripping off her fake eyelashes and wiping off her makeup.
Other Korean women are practicing what's called "skip-care," skipping over some of their usual skin-care steps or using hybrid products. If this sounds notably less political, that's because it is. K-Beauty experts in the U.S., like Yoon and Cho, say it's more about being practical and having options than making a statement about how Korean culture treats women.
"Skip care" most likely came from the skin-care brands themselves.
Korean line Jullai was an early user of the hashtag on Instagram. It used it to market its hybrid products, like the Bounce Essence Oil Toner, which cleanses and hydrates.
"Skip care," then, could be just a clever way to sell more skin care. There's a new wave of hybrid products, like Peach & Lily's Lazy Day All-in-One Moisture Pads, which Yoon says delivers the benefits of a toner, essence, and moisturizer in a single swipe.
But if "skip care" is adopted more widely, it might also lead to similar territory that "save the corset" is exploring, in which women question why they're using a double-digit lineup of products — and putting extensive amounts of thought and time into making themselves appear a certain way.
American K-Beauty retailers are already easing up on the idea that anyone's skin-care routine should have been ten steps in the first place. This year, at WWD's Digital Beauty Forum, Cho said, "You don't have to use ten products every day and night. I mean, I only used five steps today."
Euny Hong, the author of The Birth of Korean Cool: How One Nation is Conquering the World Through Pop Culture, punctured the lore even further with an opinion piece in the New York Times, with the headline "I Grew Up Around Korean Beauty Products. Americans, You've Been Had." In it, she explains that this skin-care routine that Korean women have supposedly been undertaking since the beginning of time started only in the '90s when the country became wealthy and started exporting pop-culture and beauty products.
"When I was growing up," Hong writes, "Korean skin creams were all the same shade of toilet-paper pink, and they smelled like Glade PlugIns." And even with this boom, she adds, the reason for all of that great skin has more to do with retinol, Accutane, Botox, and cosmetic surgery than anything a snail excretes.
It remains to be seeen whether American women, who were mostly likely never doing all ten steps anyway, keep their sheet masks. But no matter what, it's clear that some Korean women weren't doing a double-cleanse simply because they wanted to, and that now they're fighting back. In the end, witnessing "escape the corset" unfold might just be more inspiring than watching any ten-step skin-care routine.