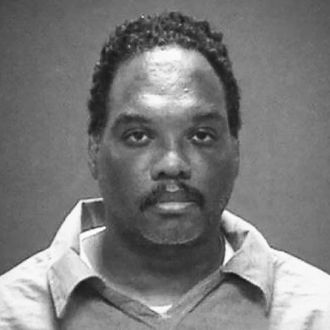 Ex-judge Lance Mason.
Photo: Ohio Department of Corrections
Four years after a former Ohio judge served nine months in prison for brutally assaulting his wife in front of their children, he has been accused of killing her.
The man, Lance Mason, was arrested on Saturday after Shaker Heights police responded to a reported domestic dispute at the home of his estranged wife, 45-year-old Aisha Fraser, a local teacher. Upon law enforcement's arrival, Mason reportedly attempted to flee by car, but he hit a police car, injuring both himself and the officer. Fraser was found inside, where she had been fatally stabbed. (It is unclear what charges Mason will face.)
In August 2014, Mason was sentenced to two years in prison for violently beating Fraser in front of their 4- and 6-year-old daughters. Per court documents, Mason and Fraser got into an argument while driving home from a relative's funeral in August 2014, during which Mason repeatedly hit Fraser in the head, bit her face, and slammed her into the dashboard and passenger window — while both girls were in the back seat. When Fraser tried to escape the car, Mason struck her again, kicked her out of the car, and drove off, documents claim. According to TV station Cleveland 19, Fraser suffered severe injuries to her head, face, and neck, including a broken orbital bone, as well as cuts and bruises.
At the time of Mason's first arrest, police found "smoke grenades, semi-automatic rifles, a sword, a bulletproof vest and more than 2,500 rounds of ammunition" in his home, according to Cleveland.com.
After Mason pleaded guilty in 2014, the prosecutor overseeing his case called it "an example of sometimes how good people make bad decisions or do bad things," according to Cleveland 19 News. And Cuyahoga County prosecutor Tim McGinty released a statement saying that Mason's conviction marked "a sad day," adding that he was "a good judge and a friend." "I am confident he will leave prison rehabilitated and will again be an asset to our community," the statement read.
Mason ended up serving just nine months of his original sentence, after which the mayor of Cleveland's office hired him to serve at the city's minority business administrator. He was only fired from the position this weekend, after he had was arrested on suspicion of murder.
Per statistics from the National Domestic Violence Hotline, one in four American women over the age of 18 will experience severe physical violence at the hands of an intimate partner in their lifetime. While not many studies have looked into the rate at which domestic abusers reoffend, according to a a May 2016 report from the NSW Bureau of Crime Statistics and Research, prison sentences that are 12 months or under do little to deter offenders from committing domestic assault again.
Following reports of Fraser's death, Shaker Heights superintendent Stephen Wilkins released a statement mourning the loss of the district's beloved teacher.
"She touched so many of our children's lives and will be deeply missed," the statement reads. "Her loss is unexpected and the impact of this news on our entire school community is unimaginable and profound."