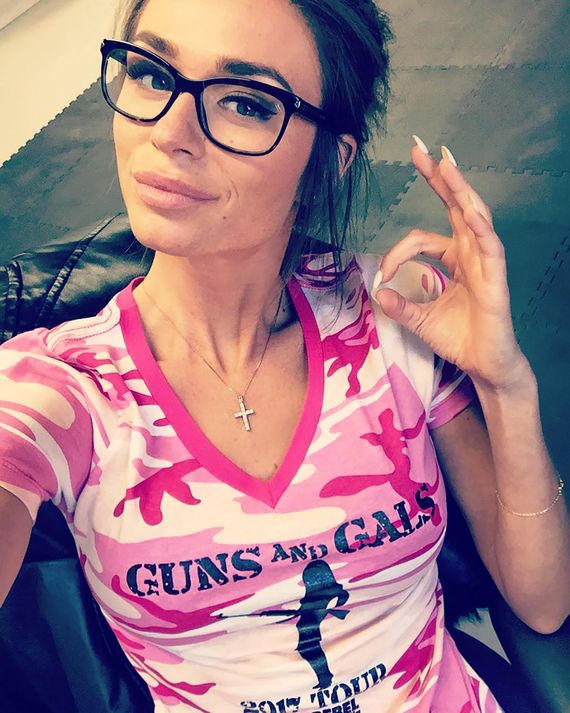 Photo: faithgoldy/Instagram
Long before Faith Goldy became a poster girl for white nationalism, she was one of the most popular students at our all-girls private school in Toronto, Havergal College. A year ahead of me, Faith was larger-than-life, a natural for big roles in school plays, while most of us fought for supporting parts. Our school preached women's empowerment and inclusivity, and Faith was a fierce student leader who proudly embodied the values we were taught. "She was magnetic," said a former friend. "I remember just wanting to be around her. If she walked into a room, you knew she was there." Her voice echoed through the school halls, and she became known for her fake tan and big, dyed-blonde hair she moussed into tight coils like ramen noodles.
It seems Faith is still good at commanding attention, but over the 11 years since she graduated, our erstwhile high-school golden girl has plunged deeper and deeper into the bowels of the far right, culminating in a trip to Charlottesville for the infamous Unite the Right rally in August 2017, where she reported sympathetically on the alt-right and then went on a podcast from the neo-Nazi website the Daily Stormer. "In the next five to ten years, probably closer to five, we will have alt-right men and women running for political office," she told the cheering audience of neo-Nazis during the live taping of the podcast. On Gab, a social-networking site popular with white supremacists — the online home base for the man who recently killed 11 people at a Pittsburgh synagogue — fans lauded Faith's Daily Stormer appearance as proof she was "our girl."
In a movement mostly dominated by white men, Faith is a potent weapon for white supremacy. Her fans are fond of pointing out her physical attributes in crude, sexual terms: She's tall and rail-thin, towering over her interview subjects. She has a head that seems too big for her body, and eyes and lips like a Bratz doll. She has a deep, robotic monotone that she has perfected over years in punditry, and a thick Canadian accent, with rounded "O's" blown from her puckered mouth like smoke rings.
In July 2018, Faith put in her bid for mayor of Toronto, where she ran a campaign that gleefully parroted Trumpian language like "make Toronto safe again!" and "the media is truly the enemy of the people!" When, as a fringe candidate among more than 30 others, she wasn't allowed into debates, she painted herself as a free-speech martyr. Her campaign flyer proclaimed, "Only Faith Goldy will evacuate illegal migrants from our city and put Toronto First!"‬ She racked up a much-scrutinized endorsement from Iowa Republican congressman (and fellow avatar of white nationalism) Steve King, orchestrated a photo op with Rudy Giuliani, and garnered a fawning op-ed from conservative media mogul Conrad Black, who argued that, when Canadian TV networks refused to air Faith's ads, she was "being over-punished for testing the sensitivities of political correctness."
Anyone who had spent any time tracking her journey online knew that that was a ridiculous claim — she had moved well beyond "politically incorrect." In the past year, she made a video praising the thuggish Greek neo-fascist party Golden Dawn, bemoaned "cultural Marxists and globalists who have reprogrammed the white race," and spoke about her desire to "return" Canada to a population that is "96 percent Euro Canadian." As she put it during an appearance on the far-right YouTube Channel Red Ice: "Racism is used to pathologize a healthy and natural instinct within people. When anyone tells you you're a racist or white supremacist, tell them that's a term of oppression and you do not subscribe to it." While Faith denies the terms white supremacist and alt-right, other figures in the Canadian far right think she's in the boat with them. After her failed mayoral bid, YouTuber ProperGander TV said, "The media is looking at Faith Goldy as a far-right, white nationalist. Which she is at heart, don't get it confused."
Her new, hate-based fame comes as a shock to pretty much everyone who knew her during her school days. Unlike fellow far-right traveler Stephen Miller, who was a glue-eating loner by third grade, Faith was beloved. Almost all the alumni I spoke to said she made them feel included and went out of her way to ask how they were doing, even when they weren't in her social circle. Now rejected by our community — she was disinvited to the ten-year high-school reunion planned by her former classmates — she remains a source of horror and fascination to us. "I felt dizzy, like the world was spinning, sick to my stomach," said one former friend, echoing the views of most of our schoolmates. "It was like a ton of bricks had hit me."
In 2007, Faith's senior year, she and I had performed together in The Laramie Project, where we made a fence out of sticks and rope and held a vigil for the play's subject, Matthew Shepard, a young gay man mortally wounded in a 1998 hate crime in Laramie, Wyoming. It seemed impossible to me that the Faith I knew then could have changed so dramatically. For years, I thought if only I could talk to her, maybe I'd be able to understand the reasons for her metamorphosis. The slogan at my high school was, for a time, "preparing young women to make a difference," and, in her own way, Faith was. But she was fighting for an ideology rooted in racist falsehoods, and I couldn't understand how someone who once seemed intelligent could buy into it — or would want to. Watching her videos, I didn't just see a woman shilling abhorrent white nationalist ideas — I also caught flickers of the Faith I remembered, who was vibrant and had seemed so full of promise. Every door had been open to us. Why had she chosen to spend her life peddling bigotry?
In high school, Faith was an active student with a rebellious streak. She joined sports teams and actively participated in community service projects, but she'd also sneak off to smoke weed in the park near her house. "She had this really weird way of appealing to the authorities, but also this sort of badassery and rebellion," recalls Corinne, a former friend and schoolmate who knew Faith since fifth grade. Faith was fiercely protective of her younger sister, and on Fridays, according to her sister's former friends, she would help them buy weed. She also answered questions about sex and shared stories about drug use. On weekends, the dark basement of Faith's family duplex, with its floor strewn with blankets and pillows, became a place for Faith and her friends to drink and smoke without adult supervision. "Whatever she was doing at that time, she wanted to be the poster child and the leader and to get other people onboard," recalls one of her sister's former friends. (Through a lawyer, Faith contends that she never "purchased marijuana for anyone" or "introduced any minor to sex or illicit drugs.")
There were other signs of Faith's thirst for the limelight. She was vocally progressive, attended a march in support of marijuana legalization, and presented a social-science project on different forms of birth control. She also wrote and performed a docudrama on sex workers' rights — all things that would have been taboo in our fairly buttoned-up school. These endeavors got her some social currency, which she thrived on — a pattern that would continue to be a trademark as she made her way into her political career. A former teacher recalls the day that a film crew came to the school to film a talk by environmental activist David Suzuki. He recalls how Faith lit up with the press around. "Suddenly she was like, Oh my god, I just love this spotlight that is coming to town," the teacher recalls.
Faith didn't come from the typical privileged Havergal family. In a 2007 radio interview, she reflected on what it was like growing up in a home with an abusive father. After her mother left her father, a doctor, when Faith was in elementary school, it drastically changed their circumstances. Faith, her mom, and Faith's younger sister moved from a huge mansion with ponies at her birthday parties to a modest duplex. "I was so used to living this luxurious life with my dad, he supported us financially, so I didn't really know where we'd go or what we'd have to eat, or if we could be able to eat," Faith said in the radio interview.
Throughout this upheaval, Faith's mom was her main support system. "She instills in me every day know who you are, be who you are, and don't let anyone change that," Faith continued. Girls who knew Faith remembered a "Gilmorean" closeness between Faith, her sister, and her mom, seeing them as a model of a strong female unit. Lia Grimanis, a friend of Faith's mother who met her volunteering for a domestic violence support group called the Women Abuse Council, recalls admiring Faith's bravery. "I was just really proud of them to have that courage," she said. "And I thought, you know, they're gonna be great fighters for equality. They're gonna be great fighters for truth."
Faith put on a brave face in high school when she talked about the strained relationship with her father. Yet there were also signs she was struggling. An adult confidante said Faith had difficulty with her reduced circumstances at a school, where conspicuous wealth was very much on display. She recalls having Faith over to babysit, and how she always sensed that Faith liked being there — as if it was a welcome respite from whatever was happening at home. "She was like a lost puppy," she recalled. "She was someone I always knew who would land on her feet, but I also felt she needed somebody to show that they were in her corner."
After middle school, Faith underwent a major physical change, losing a dramatic amount of weight in one summer. Being skinny was prized at our school, but such a seemingly overnight transformation was jarring. The weight loss yielded a change in Faith's social life, as she became a sudden magnet for male attention, which she relished. Girls from school remember it also yielding a change in her personality. Strutting confidently through the halls with her newly dark and flat-ironed hair and short green school kilt, the new Faith seemed harder and colder, more aloof than the warm person who had tried to make everyone — well, almost everyone — feel included and welcome.
But there were some students who never found her warm. "Even in kindergarten, I witnessed her be overwhelmingly cruel to people, and she always had a way of explaining her way out of it," recalls one former classmate. She says that while Faith never broadcast her bullying — which might be why so many remember her as charming— she picked her targets strategically, homing in on girls she knew wouldn't have the power to speak out. "She wasn't running around being a mean sadistic piece of shit. She was running around being incredibly charismatic," the classmate recalls. "She had an intuitive understanding of what people wanted to see. She had this capacity to be whoever you wanted her to be."
In 2013, a very different Faith Goldy gave a speech at an anti-abortion rally in downtown Toronto. Bundled up in a red plaid coat, her hands fumbling with her notes through black gloves as thick snowflakes fell around her, Faith told the crowd about how feminism had betrayed generations of women who had been "educated to equate [the] right to murder with their liberty as a female." She told the crowd that she too once bought into the great lie of pro-choice politics as a teenager, chanting slogans like "keep his rosaries out of her ovaries." Since then, she said, she had seen the "light of life."
Right after high school, Faith's mother, Julia, was diagnosed with stage 4 breast cancer, and Faith found comfort in God. The family rejected traditional medicine and tried to treat her with prayer and natural healing. When Julia outlived her prognosis by six years, Faith credited it in part to God's intervention. She also reasoned that taxpayer money that could have been going to her mom's cancer treatment had been diverted to the "holocaust" of unborn children. High-school friends who were still in touch with Faith were surprised at her 180-degree transformation, but they also understood she was struggling. "We're just kind of like, okay babe," recalls a former friend. "We'll let you have your thing, and at that time we were very glad it was giving her comfort because it was such a difficult time."
As a political-science student at the University of Toronto, Faith became pro-life and soon passionately embraced other conservative values. "I typically didn't debate too much with her because sometimes I would get an emotional response to what she was saying and she never would," said a former college friend. Yet for all Faith's newfound holiness, the friend saw her as someone who didn't always practice the traditional values she preached, and who continued to party and seek the spotlight. According to a former Canadian government staffer who used to see Faith at conservative conferences and conventions, she was a skilled social climber and "conservative socialite" often seen hobnobbing with powerful men at events.
At some point during her mom's illness, she began a relationship with a guy named Josef Viezner — now her fiancé — whom she had met in passing via Toronto private-school circles. They shared a love of guns and a mutual pride in their European heritage. When I was in high school, I had heard about an incident in which Joe and some other kids had been asked to leave their all-boys school in part for their participation in a chat group that glorified the Holocaust and was filled with anti-Semitic slurs. "Joe was one of three people that was asked to leave the school for an anti-Semitic incident," confirmed Hal Hannaford, the school principal from that time. Multiple former schoolmates confirmed that Joe had a habit of espousing anti-Semitic rhetoric. Adds one former classmate: "I wasn't really surprised when I heard [Faith's extremist views], and that's because I knew Joe." Through a lawyer, Viezner states that he is not and has never been anti-Semitic. This past February, Faith posted a birthday collage of Joe on Instagram hailing him as "the guy who makes my politics sound leftie."
Faith's mother died in 2014. By then, Faith was working as a reporter and commentator on Sun News, then the Fox News of Canada, where she was cast as the "token young person," who talked about Christian morality and railed against abortion and gay rights. At least at first, people who knew Faith saw her rightward shift as flagrant opportunism, citing how different she was as soon as the cameras came on. "I don't think Faith has ever been capable of understanding that people have real emotional feelings about social injustice," said John Downs, who was often cast as the young liberal on Sun News panels opposite Faith. "This is just a game that she really wants to win, no matter what the consequences might be."
After Sun News closed, Faith moved to the Rebel Media, an outlet more like Breitbart and Infowars — an ugly mix of Islamophobia and anti-immigrant messaging. She quickly became one of the network's stars, warning the audience of the feminizing dangers of soy and the prospect of "white genocide," arguing that "diversity might just be code for population replacement." She spoke of a holy war between Islam and the West and called for a return to the Crusades. In January 2017, a far-right vigilante killed six worshippers at a Mosque in Quebec; at his trial, a document with his search history was produced, showing that in the month before the attack, he mainlined sources like Ben Shapiro, Richard Spencer, and Faith's Rebel pal (and founder of the violent far-right Proud Boys) Gavin McInnes. Two days after the shooting, Faith promoted an Islamophobic conspiracy suggesting the killer may have actually been a Muslim man.
Faith was fired from the Rebel after she went down to the Unite the Right rally in Charlottesville and appeared on the Daily Stormer's Krypto Report podcast. Openly associating with neo-Nazis was apparently too much for her bosses, no matter that she had been spewing hatred on their dime for years before that. The firing seemed only to incite her further. Faith then made what Jared Holt, a reporter for Right Wing Watch, calls "a Need for Speed drift into the extreme right," spending the next few months hanging out on white-nationalist podcasts, YouTube channels, and Gavin McInnes's show, as well as beginning to make her own videos. In these appearances, you can see her martyr complex continuing to grow. With McInnes, she talks about how "getting burned" for exercising her free speech only emboldened her to speak out more. He cheers her on. "You see what I'm screaming folks at home, this isn't just a journalist, this is a world leader! It doesn't hurt that she's an 8.97; you get the best of Melania and Donald!"
In December, in a now-removed interview with a YouTube channel called Millennial Woes, run by Colin Robertson, who argues that supporting racial equality is "clearly deluding yourself," she doubled down on her commitment to white-nationalist beliefs. Faith, wearing a fuzzy blue-and-white Christmas sweater, spoke in awed terms about the "great conversation" happening after Charlottesville when it came to clarifying "optics" and the future direction of the "dissident right." She describes life after being fired as "completely liberating." Charlottesville helped her to clarify her views and see who her people were. "We don't have many friends, but hell, we've got a fighting cause and we believe in our future," she said. Faith also quoted Richard Spencer, who is one of America's most prominent white-nationalist figureheads: "You have to be willing to become a villain in order to make change in this society."
Robertson then prompted her say the 14 words, the notorious white-supremacist slogan: "We must secure the existence of our people and a future for white children." The 14 words were coined by white-supremacist terrorist David Lane, who was convicted of murdering a Jewish radio host named Alan Berg. The number 14 is one of the most common ways of identifying as a white supremacist and is often seen tattooed on the forearms of skinheads and Klan members. Faith said it through giggles. "I don't see why that's controversial, is that bad?" she asked facetiously. "I think it's controversial to say the opposite."
Why did Faith take such a sharp turn toward extremism? There's no exact moment when someone snaps; rather, it involves a complex constellation of psychological, social, and cultural factors. While there is no clear link between trauma and extremism, for some individuals, upheaval in their home lives can leave them adrift and searching for new meaning. "One of the great perceived attractions to becoming involved in extremism is it presents a simple way of understanding a complicated world," explains Dr. John Horgan, whose research is focused on the psychology of terrorist behavior. "It's comforting, like a warm blanket." People who become extremists generally have a fragile sense of identity. The way Faith threw herself into Catholicism when her mom got sick may have indicated a hunger for new ideologies that could help explain her place in the world.
J.M. Berger, one of the leading experts on extremist ideologies, told me it can be helpful to think of extremist ideas as a socially transmitted disease, one that spreads particularly quickly in times of societal uncertainty. In order to catch the virus, you need both a weakened immune system and you need exposure. As Faith was exploring her newfound religiosity and grappling with the loss of her mother, she was getting serious with someone who had expressed anti-Semitic views in high school. She was also diving headfirst into a political and media landscape where the far right and mainstream right were quickly converging, and where social media was causing extremist ideology to proliferate at an unprecedented rate. "If you get into a social network where [extremist views are] on offer, then you're much more likely to pick it up," Berger explains. If extremism is a virus, Faith, seeing this burgeoning online white-nationalist movement as a shortcut to fame and notoriety, became a willing host for it.
Holt says becoming a far-right media personality is often a decision you can't undo. "It can be a profitable decision to go far to the right, where the audience is very accepting and gets excited about new personalities that come on the scene, especially young women," he said. "But because this audience is so toxic and hateful, going to that audience is sort of like your last stop on a media career. It's like Hotel California; it's nearly impossible to ever leave once you get in."
Faith, like many women in the alt-right, occupies a complicated space. The movement needs women if it's going to spread its message far and wide, but it's also rooted in deeply misogynistic beliefs, with a fan base that derides and objectifies the women it elevates. "I know it seems a bit rich a female telling men what to do, I'd frankly rather be cooking and cleaning," she said on the far-right Millennial Woes podcast. Later, she told professional misogynist Roosh V, on a show about "tradthots" (women who preach traditional values without living up to them), that "I, for one, have never fancied myself to be a thought leader … I've only seen myself as a propaganda arm, and I would hope that a lot of the women [in far-right media] see themselves as such." Faith clearly has designs on being a leader; she always has, ever since we were little. But the nature of the alt-right means that she has to renounce her own ambitions.
After Charlottesville, Havergal put out a statement distancing itself from Faith, though it didn't mention her by name. When I reached out to the school for comment, they told me, "The school's values — integrity, inquiry, compassion and courage — do not align with Faith Goldy's. Rather than mention her specifically and continue the negative discourse, Havergal took the opportunity to reinforce our values." Yet our community was reeling, and it wasn't just people from school who struggled to comprehend Faith's transformation. When I originally spoke to Faith's mom's friend Lia Grimanis for this story, she hadn't been caught up with Faith's trajectory. She spent the next night binge-watching Faith's videos and emailed me the next morning with the subject line, "sick."
"For five years, I've deliberately stayed uninformed about her, because of the family connection," she wrote. "Back then, I thought she was an Ann Coulter wannabe, with some offensive views about trans people, Sex Ed, and other standard hard right wing complaints. I had no idea she had gone so far into race issues. How did this happen? We are the daughters of immigrant families. I am utterly horrified, heart broken, and completely at a loss."
When I first emailed Faith in 2017, pre-Charlottesville, she had been eager to talk, signing off her email with a chummy "I'm so pleased to see you're kicking butt & taking names south of the 49th." When I emailed her again this past August, she was less effusive, saying she only wanted to talk about her mayoral bid and "vision for Toronto." Then she stopped responding to my emails altogether, despite complaining constantly about the mainstream media ignoring her campaign. Luckily, just like at school when you could hear her voice booming through the halls, she wasn't hard to find. On a sweltering September night in Toronto, I saw her Periscoping her location to fans and went to meet her.
She was wearing a dark-blue blazer and her hair was ironed flat. She didn't recognize me at first, so I pulled down my sunglasses. "Anna Silman!" she exclaimed. I was disarmed by her friendliness. Faith is even slimmer than she looks onscreen, with lashes so heavily layered in mascara she seemed to be straining to hold her eyes open. She steered me over to a quiet corner so that my recorder would pick up the sound better. Right off the bat, she tried to establish familiarity, saying my name, holding my gaze, referencing shared memories. She told me her "red pill" moment came when she was around 17, when her mom revealed that she was a pro-life conservative. "Here I was as you remember me, Anna, a poncho-wearing, braided-haired hippie, and my mom was a conservative? My confidant, my best friend, my hero?" said Faith with dramatic flair. That was the moment when Faith said she first started to engage with what she called "conservative" ideas.
I asked how she felt about all the people who had once loved her and were now sickened by the things she said. Her eyes narrowed. "Is this a gossip column you're writing?" she asked. With a seamless move, she flicked out her phone and began recording our conversation. I said it was a story about her. "I have so many fantastic friends, some of whom I've known since I was in kindergarten, some of whom are new friends. And part of growing up is that folks evolve," she said, sounding hurt. If people really cared about her they would stick by her, she added, even if they disagreed with her views. "Those who don't, well then perhaps they've just fallen victim to this culture of social justice 'offend-luenza' if you will, constantly triggered and offended by everything," she continued. "Grow up, it's the real world." The way she spoke was oddly stilted, like she was reading off an invisible teleprompter only she could see.
In our interview, Faith showed no accountability for how her rhetoric could lead to violence. I asked why she had gone on the Daily Stormer. "I'm sorry to hear that you were triggered by my appearance there," she responded robotically, saying that she had been "unfamiliar" with the podcast and that she "[doesn't] hang out, in the bowels of the internet." I asked why she had said the 14 words, given that it is known as a neo-Nazi slogan; she said they were "a thought experiment." When I asked her about her views toward LGBT people — like that participating in a pride parade is "endorsing a sinful lifestyle" — she responded brightly with "I, too, am a sinner," adding that she has wonderful gay men working on her campaign. I mentioned her remark about alt-right challengers running for office and asked if she considered herself one of them, which she denied. "I am on record as saying, I am in support of the one-state solution [for Israel], and a lot of members of the alt-right don't like that about me," she said.
I could feel her appealing strategically to my Jewish identity. She knows how to  speak to her audience, how to morph her ideology to fit whoever she needs to convince. "Correct me if I'm wrong, you're a woman of Jewish heritage," she said. "When you use the word, Nazi, you, because of your heritage, ought to know better, than to throw it around recklessly." I pointed out that she had associated with actual neo-Nazis, so I wasn't really throwing it around, but regardless, if she had "known" what the Daily Stormer was, would she do it again?  "I am so fiercely committed to truth and sharing what I experience, what comes of my research, that I will always stand committed to free speech and freedom of association," she shot back.
The moment we started talking, I realized I wasn't going to get Faith to level with me in any meaningful way. I was being played. We all were. That's the thing about Faith, and this new white supremacy rising beneath us. It's meant to be destabilizing, confounding, uncanny. The new white supremacy doesn't announce itself plainly; it's concerned with "optics." It doesn't wear a hood or wave a swastika. It portends to be relatable and nonthreatening. It says things it doesn't mean; it denies those it does. Why was I so surprised when it showed up like this, in the form of my high-school theater co-star, chastising me about my language on a Toronto street corner?
Since 9/11, white supremacists and other far-right extremists have been responsible for far more killings in the U.S. than any other domestic terrorist category, according to the New York Times. We've seen mass killings at mosques, Sikh temples, and churches. Last month, a white supremacist killed 11 people at a Pittsburgh synagogue because he had bought into a fake far-right conspiracy theory about George Soros funding a migrant invasion of the U.S. — a lie that was parroted not just by Faith's cronies in the alt-right, but also by talking heads on Fox Business Network.
Vegas Tenold, a journalist who wrote a book called Everything You Love Will Burn about the six years he spent embedded with white supremacists in the U.S., says he finds Faith more frightening than the Klansmen and neo-Nazis he reports on. "She's dangerous because she isn't overtly abhorrent," says Tenold. "Faith Goldy is even more adept than the Richard Spencers of the world. She's just a faster, stronger, better white nationalist." If you view the alt-right less as a cohesive movement than as a vehicle to introduce white-supremacist ideas into mainstream politics, "then she is a better weapon by which to do that."
Despite all of Faith's contortions to try and have it both ways, things aren't looking so good for her right now. A few weeks ago, she lost the Toronto mayoral election. She got 3.4 percent of the vote, putting her in third place. During her campaign, Faith toned down her rhetoric to try and appeal to the mainstream, or, as, one YouTuber dedicated to "promoting pan-Euro-nationalism" put it, tried to "optics-cuck to try and win some votes." But Toronto doesn't want her, and now, neither does the alt-right. After she lost, Richard Spencer tweeted that she had betrayed the cause by allying with Zionist causes and diluting her platform to get votes. "She ran a campaign that was only about her 'brand' and proved that she has precious few ideas or ideals beyond that," he tweeted. "I once thought she could be a bridge to somewhere, now I think she is a bridge to nowhere." Faith is only useful to them when she's winning.
"That's all the movement is built on: egos," said Tenold. "Knowing Richard [Spencer], I'm pretty sure he's very jealous of her [fame]. It doesn't matter as long as you have the loudest voice. That's why none of them can ever collaborate on anything whatsoever under the fucking sun." Sure enough, the day after she lost, Faith changed her Twitter bio to "next Prime Minister of Canada."
During our awkward high-school reunion, I asked Faith how she looked back on her teenage years — how she squared the person she was now with the girl that I remembered. "Darling, they were the glory years!" she responded, with a chummy, conspiratorial look on her face. "Who wouldn't wanna be back in high school? I mean, I'm sure that [you wouldn't] if you were severely bullied. I was bullied a little bit, and I'm not so allergic to the idea of sometimes kids getting theirs, so to speak."
"So, do I look fondly on it? Of course!" she said. "I was popular. Teachers, by and large, loved me, students of all popularity statuses loved me, 'cause I gave time to everyone, and if I saw so much as one little girl being bullied by another, you know this, Anna, I'd get in the middle," she said. "I've always longed to protect the flock, and stare eyeball to eyeball with the wolves."