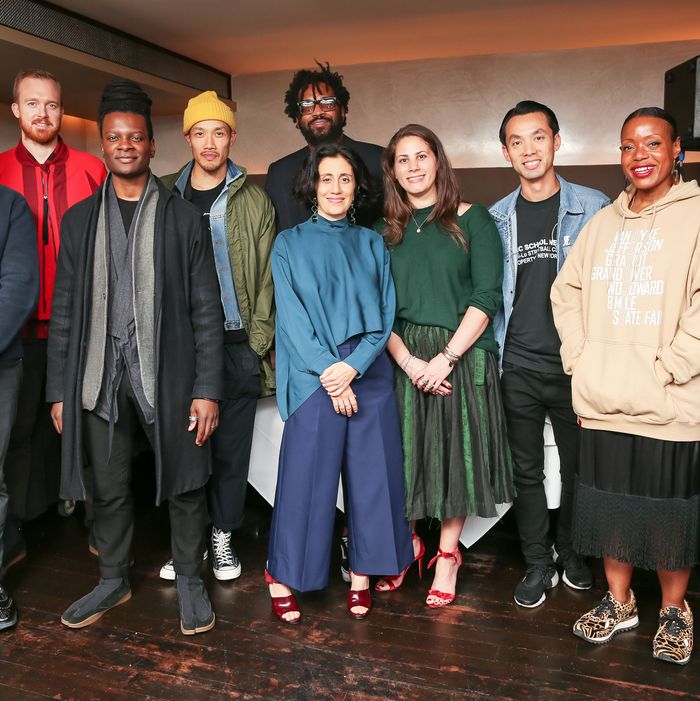 The five finalists.
Photo: Angela Pham/BFA.com
It's been a big week for designers in America. First the CFDA and Vogue Fashion Fund honored Kerby Jean Raymond of Pyer Moss, and now five new designers are working with the CFDA to make their businesses more sustainable. The five finalists are Araks, Public School, Tracy Reese, Abasi Rosborough, and Jonathan Cohen Studio.
The five labels will embark on a nine-month program called the CFDA + Lexus Fashion Initiative. Basically they'll have access to experts across the field of conscious fashion to improve their supply chain, environmental friendliness, and social responsibility.
One brand will win an extra monetary prize at the end of the nine months. And they're in good company — Rosario Dawson and Abrima Erwiah won last year for their label Studio One Eighty Nine. For some, it isn't their first foray into conscious fashion. Araks has been making organic-cotton lingerie for ten years, and Public School has been busy bringing sustainability to streetwear, most notably with Eileen Fisher.
"We see what we're doing as contributors [to what's going on in the world] and feel guilty and we want to make that change. We have to," Maxwell Osborne of Public School told the Cut. "We had to dig deep and really talk this one out."
All the finalists celebrated last night at Blue Hill in New York, eating farm-to-table appetizers with other leaders in the fashion industry. Nothing goes better with a clean conscience than organic egg tortilla wrapped in house-made cured meats.