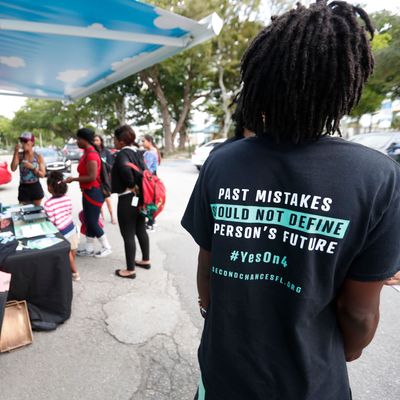 People gather around the Ben & Jerry's "Yes on 4" truck as they learn about Amendment 4 and eat free ice cream at Charles Hadley Park in Miami on October 22, 2018.
Photo: Wilfredo Lee/AP/REX/Shutterstock/Wilfredo Lee/AP/REX/Shutterstock
Florida's Senate and gubernatorial races remain too close to call, but there's already some major news out of the state. Voters just passed Amendment 4, a ballot initiative that restores voting rights to nonviolent felons. That means 1.5 million Floridians with prior felony convictions will be eligible to vote in 2020.
Previously, Florida was one of four states to withhold voting rights from felons as general practice. The state did allow clemency hearings, but it was an idiosyncratic process with a backlog of 10,000 cases. People pleading for the restoration of their voting rights had to appear before the governor. "A U.S. district judge found Florida's current system arbitrary and unconstitutional in March, and the case is under appeal," the Pensacola News-Journal reported on Tuesday evening. The hearing process can be invasive, as Ciara Torres-Spelliscy noted in a column for the HuffPost; during the process, "the governor can ask … almost anything, including her religious preferences."
About 10 percent of Florida's population has a felony conviction, as the Intercept reported, and people of color are overrepresented in this demographic; one in five African-Americans in Florida have a felony conviction, a legacy of the war on drugs. But some activists criticized the amendment for excluding individuals convicted of murder or sex crimes. "I pay taxes, work to improve my community and am a productive member of society. But the backers of Amendment 4 would deny me the right to vote," Paul Wright, who was convicted of murder in 1987 and now leads the Human Rights Defense Center, wrote in an editorial for the Tallahassee Democrat.
On its own, the passage of Amendment 4 is a positive step forward; it restores basic civil rights to over 1 million people, and spares them the indignity of an invasive, complicated hearing process. But there are electoral implications, too. From voting irregularities in Georgia and Republican attempts to stop redistricting in Virginia and North Carolina, the GOP has earned a reputation for voter suppression. With Democrats Andrew Gillum and Bill Nelson locked in toss-up races for governor and U.S. senator respectively, the passage of Amendment 4 is notable as an outlier that could boost the Democratic Party's chances in 2020 and beyond.