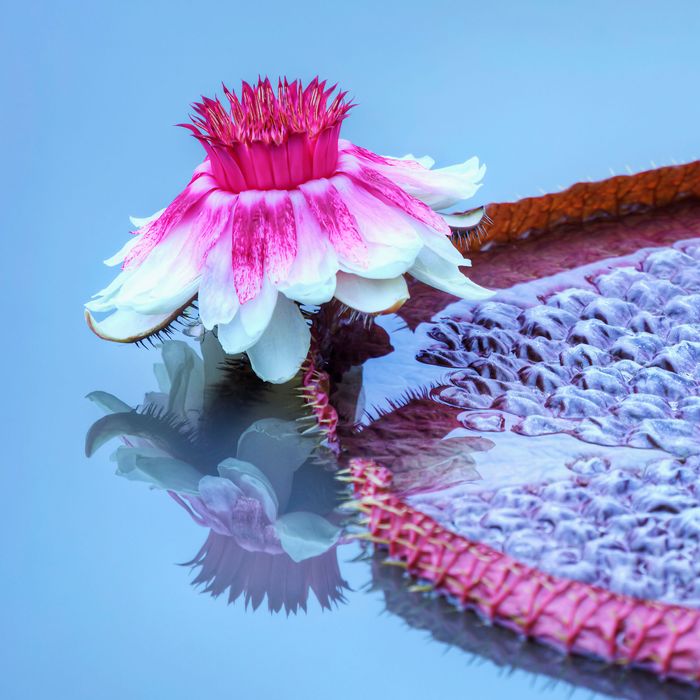 Euryale ferox water lily.
Photo: Getty Images/Topic Images
Pantone's color of the year for 2018 was Ultra Violet. Their color for 2019 is TBA, although I'm guessing something yellow-y. Meanwhile, Whole Foods is doing its own 2019 forecast, but with food, health, and purchasing trends. Their list feels satisfyingly straight out of a wellness-themed Charlie and the Chocolate Factory remake (Charlie and the Paleo Co-working Experience?): there's avocado ice cream, jackfruit meat replacement, and probiotic tabletop cleaner — also vanilla-flavored grass-fed ghee and ketogenic egg-white chips.
Personally I'm most intrigued by the edible water lily seeds. Popular in India and China for thousands of years, the puffed snacks now appear alongside crispy salmon skin and kelp jerky as some of Whole Foods' "marine munchies" to keep an eye on. Known in India as makhana (and "gorgon nut"), the puffed seeds are crunchy and taste "like savory Kix," according to one food editor. A purveyor of these seeds describes them as an "ancient super snack" and an "Ayurvedic superfood" — a serving of which contains 3 grams of protein and 20 grams of carbohydrates. (The actual plant's leaves also have a pretty, "quilted" texture, too.) I didn't know I wanted food to make me feel like a fresh-water mermaid, but I do, although I wish that instead of a bag the seeds came wrapped in a leaf.
To that end, another trend to watch is "BYOVG" — bringing your own vegetable bag (to the produce section). Whole Foods is also promoting "people-focused" brands that support women around the world, as well as a company with a "radical inclusion" hiring policy open to "anyone who has faced barriers to employment." And while hemp products are hot, CBD oil is still "taboo."
Looking back on the Whole Foods trend projections for 2018, I'm wondering if my seemingly organic and enlightened embrace of broccoli stems isn't also because of them.